Zayle, Shadow Cloak
Regular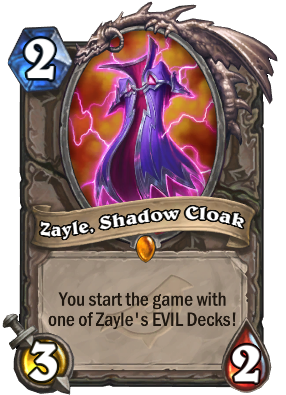 Gold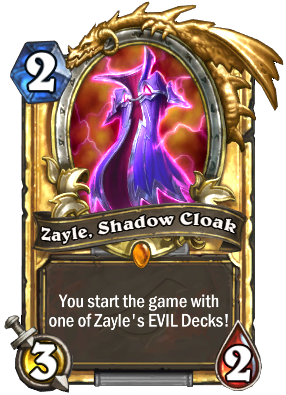 You start the game with one of Zayle's EVIL Decks!
Flavor text
E.V.I.L. is the new black.
External links
Zayle, Shadow Cloak is a legendary neutral minion card, from the Rise of Shadows set.
How to get
[
]
Golden Zayle, Shadow Cloak is obtained by purchasing all five chapters of The Dalaran Heist.[1] It is uncraftable and cannot be crafted or disenchanted.
Regular Zayle, Shadow Cloak can be obtained through crafting only.
| Card | Crafting cost | Disenchanting |
| --- | --- | --- |
| Zayle, Shadow Cloak | 1600 | 400 |
Notes
[
]
When Zayle is added to a player's deck in the collection manager, it replaces the hero for that deck in the deck screen, removes all other cards from the deck, and renames it to "Zayle's E.V.I.L. Deck". When the player starts a game, their deck will be one of five pre-made decks, chosen at random, using the class's standard hero (not necessarily your favorite hero for that class).
Whatever card back you use for your Zayle deck will be used for the deck it gives you. If your Zayle card is golden, you'll play with a golden hero and an all-golden deck. (This might give away to your opponent that you're playing with Zayle, and, thus, give away the rest of your deck) If your Zayle card is not golden, your deck will contain no golden cards, no matter what golden cards may be in your collection.
The deck you're given will not actually contain Zayle, so you won't be able to play it. Its stats only matter if the card is somehow created after a game starts through a random generation effect, in which case he is an ordinary 3/2 minion with no special effect.
You'll earn experience for whichever class you played as. Wins achieved in Ranked play count towards the total number of wins for that class (for earning golden heroes).
Zayle will also not appear in card search and is not available for crafting to New Players until they have reached Rank 10 and above in the Ranked Games.
Zayle will not change your deck when acquired in a singleplayer mode such as Dungeon Run and The Dalaran Heist.
Decklists (Year of The Phoenix)
[
]
Lore
[
]
Zayle is unique to Hearthstone.
Trivia
[
]
Zayle is the first card that was added to an expansion set after its initial release. It shares this distinction with SN1P-SN4P.
This card is a callback to Whizbang the Wonderful, as it is a legendary minion which provides the player with a random deck that can be played, regardless if the cards in it are in the player's collection.
Gallery
[
]
Patch changes
[
]
References
[
]