Zaraam
Regular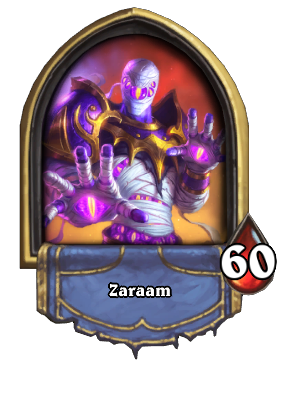 Flavor text
Zaraam grows in strength the more his minions suffer.
External links
Zaraam is a boss that can be encountered initially in Chapter 3 of Tombs of Terror. After completing Chapter 3, this boss encounter will be available in any completed chapter.
Hero Powers
[
]
| Normal | Heroic |
| --- | --- |
| | |
Decks
[
]
The below classes are listed purely for reference, and have no effect on the boss' use of the cards during the battle.
Strategy
[
]
Normal
[
]
Zaraam starts off weak, but becomes more powerful over time due to building up both his own Hero Power and C'Thun. He also has Taunt minions and cards that destroy friendly minions, so he will inevitably strengthen his own Hero Power with their deaths. If he plays Usher of Souls, remove it as soon as possible, since the minions' deaths will strengthen both Zaraam and C'Thun. Try to build up your board and deal as much damage to Zaraam's face as possible.
Heroic
[
]
Dialogue
[
]
Introduction
Zaraam

The plague has awakened a new nightmare...
Journal Entry: #928: Discovered an Ethereal, completely corrupted...
vs. Reno Jackson

Reno Jackson

Whoa! Can you... see... out of all of those?!

Zaraam

Yes. Yes, I can.
Emote Response
Zaraam

Nothing you say can hide your failure.
Hero Power
Zaraam

Chaos unfolds.
Let pain devour reason.
The plague consumes all.
You brought this upon yourself.
Idle
Zaraam

Fools lament, but plagues bring profit to the wise.
I welcome the tide of madness... obviously.
The plagues come one by one, and then—the end.
Boss cards
Zaraam

Void Terror

My legion... conquer...

Faceless Lurker

Send forward the armies of chaos.

C'Thun

Master... assist me...
Player's cards
Zaraam

Doomsayer

Yes. This one got it right!

Shadow Word: Pain

Yes, pain is the word I would use too.

History Buff

You've never seen times like these.

Pharaoh's Blessing

Blessings cannot save you.

C'Thun

Master... I am sorry!
Is my god... false? (when buffed)

Puzzle Box of Yogg-Saron

What is this!
Player taking Fatigue damage
Zaraam

Your deck betrays you...
Death
Zaraam

(gasp)
Betrayed... by a false god... (death caused by C'Thun)
Defeat
Zaraam

You sought an illusion from the beginning.
Lore
[
]
Zaraam is unique to Hearthstone. He is an ethereal transformed by the Old God C'Thun, now becoming its servant.
Trivia
[
]
Boss appearances are not uniformly distributed and Zaraam seems to be the rarest of 7th floor encounters. [1]
Gallery
[
]
Patch changes
[
]
References
[
]
Tombs of Terror
Heroes
Chapter 1:
The Lost City

| | |
| --- | --- |
| Level 1 | |
| Level 2 | |
| Level 3 | |
| Level 4 | |
| Level 5 | |
| Level 6 | |
| Level 7 | |
| Level 8 | |

Chapter 2:
Scorching Dunes

| | |
| --- | --- |
| Level 1 | |
| Level 2 | |
| Level 3 | |
| Level 4 | |
| Level 5 | |
| Level 6 | |
| Level 7 | |
| Level 8 | |

Chapter 3:
Khartut's Tomb

| | |
| --- | --- |
| Level 1 | |
| Level 2 | |
| Level 3 | |
| Level 4 | |
| Level 5 | |
| Level 6 | |
| Level 7 | |
| Level 8 | |

Chapter 4:
Halls of Origination

| | |
| --- | --- |
| Level 1 | |
| Level 2 | |
| Level 3 | |
| Level 4 | |
| Level 5 | |
| Level 6 | |
| Level 7 | |
| Level 8 | |

Chapter 5:
The Inner Sanctum
Tavern