Ysera
Ysera
| | |
| --- | --- |
| Set: | EXPERT1 |
| Type: | Minion |
| Minion type: | Dragon |
| Rarity: | Legendary |
| Cost: | 9 |
| Attack: | 4 |
| Health: | 12 |
| Abilities: | Generate |
| Tags: | Dragon-generating, Nature-generating, Random, Shadow-generating, Spell-generating, Triggered effect |
| Artist: | Gabor Szikszai |
At the end of your turn, add a Dream Card to your hand.
Ysera rules the Emerald Dream. Which is some kind of green-mirror-version of the real world, or something?
See this card on PlayHearthstone
For the Descent of Dragons version of Ysera, see Ysera, Unleashed.
Ysera is a Legendary neutral minion card, inducted into the Legacy set, formerly from the Classic set.
Ysera can be obtained through Classic card packs, or through crafting.
| Card | Crafting cost | Disenchanting |
| --- | --- | --- |
| Ysera | 1600 | 400 |
| Golden Ysera | 3200 | 1600 |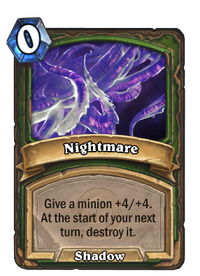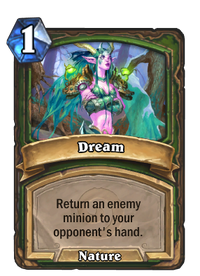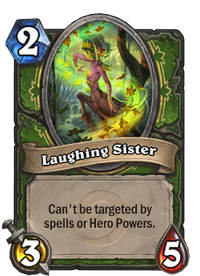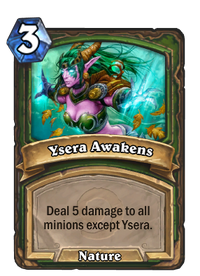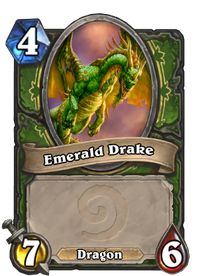 Please add any available information to this section.
Summon

I dream, and the world trembles.
Attack

I shall bring you rest.

This section uses content from Wowpedia.
Ysera is the Leader Queen and Aspect of the Green Dragonflight One of the five Dragon Aspects and Aspect of Dreams, and is the gatekeeper of the Emerald Dream.
Ysera is green, and her skin glitters with countless emeralds for scales. Her physical form is ghostly, ethereal, like watching a living dream or vision. The Emerald Dream is a place where all living beings dream when sleeping. It is a place of where sentient beings have dreams of hope, and faith for a better tomorrow. From the Emerald Dream, Ysera can observe all lesser races. Her eyes are always closed, although you can see her pupils move constantly below her eyelids as if watching many dreams at once.
Ysera reappears in Descent of Dragons as Ysera, Unleashed.