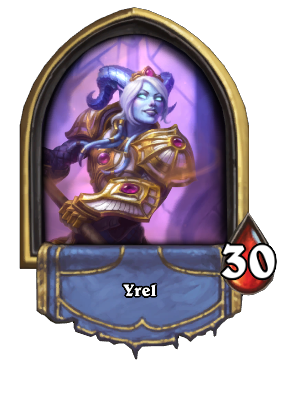 You may be looking for High Exarch Yrel.
Yrel is an alternate hero for the

Paladin class.
Background
[
]

This section uses content from Wowpedia.
Yrel is a member of the draenei's Council of Exarchs on alternate Draenor. Originally a naïve priestess of Karabor enslaved by the Iron Horde, she gains combat experience while fighting the orcish threat. After the demise of Velen and numerous betrayals from within draenei society, Yrel takes upon herself the burden of leading her people. An important ally of the Alliance forces on Draenor, she is one of the main protagonists of World of Warcraft: Warlords of Draenor.
How to get
[
]
Yrel is obtained by purchasing the Tavern Pass and reaching level 50 in the United in Stormwind's Rewards Track.
Functionality
[
]
Once unlocked and selected for use, Yrel replaces Uther Lightbringer whenever the player uses a Paladin deck, as well as:
Comes with own portrait
Has custom emotes
Has custom tray
Has special animation when using Hero Power
For more information, see Alternate heroes.
Flavor text
[
]
When viewed in the Collection, Yrel has the following flavor text:
Some paladins prefer to keep the peace by speaking softly and carrying the Hammer of the Naaru.
Earnable after purchasing the Tavern Pass.
Sounds
[
]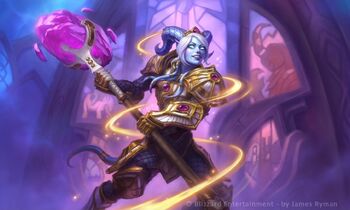 Each hero has their own selection of audio and written emotes that are produced in response to specific events. For more information, see Emote.
| Type | Transcript |
| --- | --- |
| Trigger: Blessed Champion | Link▶️Now, rise! |
| Trigger: Desperate Measures | Link▶️No one can break us! |
| Trigger: Equality | Link▶️In the Light, we are one! |
| Trigger: Holy Light | Link▶️In Light, we triumph. |
| Trigger: Rebuke | Link▶️We stand against the darkness! |
| Trigger: Righteousness | Link▶️Light be with you! |
| Trigger: Subdue | Link▶️Your strength has failed you. |
| Attack [1] | Link▶️Krona ki cristorr! |
| Death [1] | Link▶️<Death> |
| Emote: Greetings | Link▶️Light help us. |
| Emote: Well Played | Link▶️What a triumph! |
| Emote: Oops | Link▶️An oversight? |
| Emote: Threaten | Link▶️You will go no further! |
| Emote: Thanks | Link▶️Thank you. |
| Unused: Sorry | Link▶️I apologize. |
| Concede | Link▶️This is your moment. |
| Start | Link▶️Light, guide my hand! |
| Running out of time | Link▶️I have little time. |
| Thinking [1] | Link▶️Faith reveals the way. |
| Thinking [2] | Link▶️What to do… |
| Thinking [3] | Link▶️Prophet guide me… |
| Almost out of cards | Link▶️My cards are low. |
| Out of cards | Link▶️I am out of cards! |
| Error: Need a weapon | Link▶️I need a weapon! |
| Error: Not enough mana | Link▶️I do not have enough mana. |
| Error: Minion exhausted | Link▶️That one has attacked already. |
| Error: Hero already attacked | Link▶️I must rest. |
| Error: Minion not ready | Link▶️Give them time to get ready. |
| Error: Hand already full | Link▶️My hand is totally full! |
| Error: Too many minions | Link▶️I cannot command any more. |
| Error: Can't target Stealthed minion | Link▶️That one is hidden. |
| Error: Can't play that card | Link▶️I am unable to do that. |
| Error: Not a valid target | Link▶️I cannot strike that. |
| Error: Must attack Taunt minion | Link▶️Another is taunting me. |
| Error: Generic | Link▶️That is not possible. |
| Selection in Choose Your Hero | Link▶️It is time to take a stand. |
| Emote: Greetings [Lunar New Year] | Link▶️Happy New Year! |
| Start [Mirror] | Link▶️No! It guides MINE. |
| Emote: Greetings [Holidays] | Link▶️Cherish these happy times. |
| Emote: Wow | Link▶️How incredible! |
| Emote: Greetings [Happy New Year] | Link▶️Happy New Year! |
| Emote: Greetings [Fire Festival] | Link▶️The Fire Festival is a glorious display of the Light's power! |
| Unused: Greetings [Pirate Day] | Link▶️I be needin' a ship to sail to ARR-gus. |
| Emote: Greetings [Happy Halloween] | Link▶️It is Hallow's Eve? Light protect us all! |
| Unused: Greetings [Happy Noblegarden] | Link▶️Noblegarden reminds us that spring will come, and hope blooms with it. |
| Emote: Greetings [Mirror] | Link▶️It seems we will need it. |
Patch changes
[
]
References
[
]