Yong Woo
Regular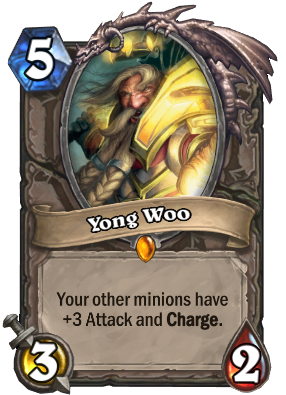 Charge
.
External links
Yong Woo is a former Blizzard employee and member of Team 5 who served as Lead Producer[1] for Hearthstone until his departure from the company on August 15, 2018.[2] He is currently the Production Director at Second Dinner.[3] He is featured in the credits card of the same name.
Official
[
]
As a senior producer on Blizzard Entertainment's Hearthstone: Heroes of Warcraft team, Yong Woo is responsible for managing the team's schedule and keeping the project on track. He also works in Live Operations, making sure Hearthstone is running stably and that problems are handled expediently.
Woo joined Blizzard Entertainment in May 2009, serving as producer for the art and design team for StarCraft II Battle.net integration. Before arriving at Blizzard, he was involved in mobile startups, shipping the first phone with preloaded GPS enabled Google Maps in the U.S.
In addition to computer games, Woo's interests include board and card games like Netrunner, Race for the Galaxy, and Dominion. He's also been known to dabble in triathlons as well as rock climbing.[4]
Notes
[
]
Before Hearthstone, Woo worked on Starcraft II and Diablo III.[5]
In late 2016 Woo was promoted from Senior Game Producer to Lead Producer.[1]
Trivia
[
]
Woo can sometimes be found streaming his Hearthstone play on Twitch.
Woo recalls playing World of Warcraft with his sister He-Rim Woo (herself a designer on the team). The two would "smuggle goods" from the Alliance to the Horde through the neutral auctioneers in Gadgetzan. These memories helped fuel Woo's enthusiasm for the Mean Streets of Gadgetzan concept.[12]
Gallery
[
]
References
[
]
External links
[
]