Xur'goth
Regular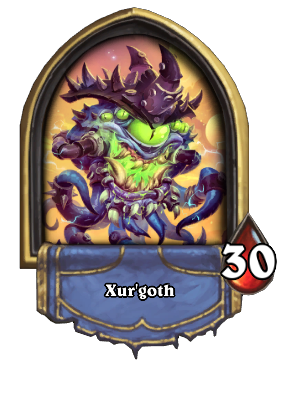 Flavor text
A lone naga is under attack, but Aranna arrives just in time.
External links
The subject of this article is part of the
Ashes of Outland's single-player content.
Xur'goth is the second boss encounter in Chapter 1: A World in Ruin of Trial by Felfire Story.
The player controls Aranna Starseeker.
Hero Powers
[
]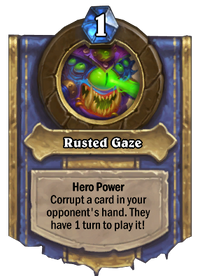 Auto-cast
Player's hero
[
]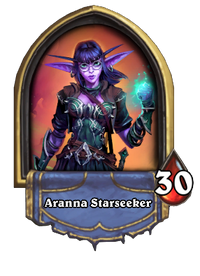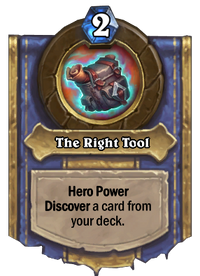 Special cards
[
]
Boss
[
]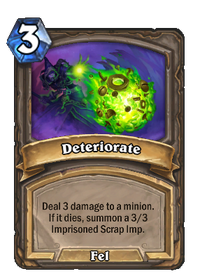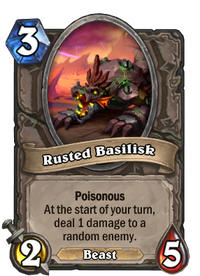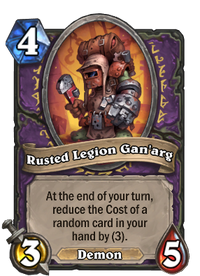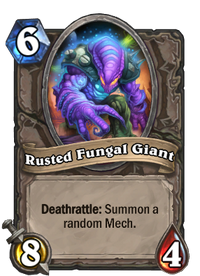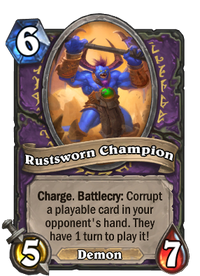 Player
[
]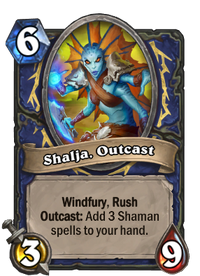 Decks
[
]
The below classes are listed purely for reference, and have no effect on the boss' use of the cards during the battle.
Notes
[
]
Strategy
[
]
Each turn, Xur'Goth's Hero Power corrupts a random card in your hand. With this in mind, it's recommended to mulligan for 1, 2 and 3 cost cards to circumvent its effects in the early game. Cards like Spymistress, Bamboozle and Hunter's Pack. More often or not, the corrupted cards can be played right off the bat. Otherwise, focus on more impactful cards as the situation would call for. Don't forget to use your Hero Power to replenish your hand.
Focus first on controlling the board and progress towards killing the 4 Demons required to free Shalja, Outcast. When awakened, you can make use of her to secure the board while quickly rushing her down with your other minions.
Dialogue
[
]
Before match
Illidan Stormrage

Aranna: overwhelmed and spent! But not alone in her torment.
Introduction
Aranna Starseeker

That Naga! It needs help!

Xur'goth

Come with me, slitherer. The Rusted One needs your services...
Emote Response
Xur'goth

Stop stop stop! I'm busy here!
Idle
Xur'goth

Here fishy-fishy...
The Rusted One wants Naga... I will get him Naga!
You don't belong here, little one...
Hero Power
Xur'goth

Another servant for the Rusted One.
Jaraxxus will have his prize...
The Legion demands loyalty. It's hard-coded!
Turn 1
Xur'goth

Oooh, and who is this? Another one to be taken?

Aranna Starseeker

Demon! Let her go!
Shalja, Outcast awakens
Shalja, Outcast

The power of Jaraxxus... overwhelming... destruction is here!
Boss cards
Xur'goth

Imprisoned Vilefiend

Come out, come out, little vilefiend...

Rustsworn Initiate

Go go go! For the Rusted One!

Deteriorate

Hahaha! Suffer!
Player's cards
Xur'goth

Minion with Stealth

Sneaky sneaky... I see what you're up to.

Scavenger's Ingenuity

Let that pretty pretty out, I dare you.

Replicat-o-tron

Ohhh - I'm seeing double!

Scrap Shot

Hey! Watch the eye!
Death
Shalja, Outcast

Your rescue came at my hope's end. I am Shalja, my honored friend.

Aranna Starseeker

Together we just might survive - I welcome you, my new ally.

Xur'goth

(yells)
Lore
[
]
Xur'goth is original to Hearthstone. He is a darkglare.

This section uses content from Wowpedia.
Gallery
[
]
Patch changes
[
]