Wrathguard
Regular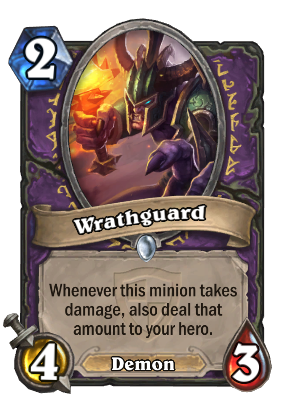 Gold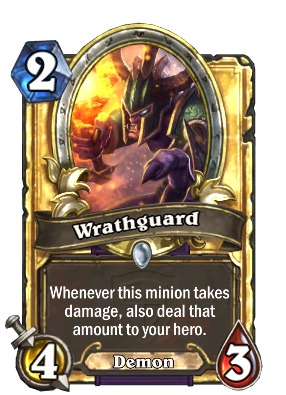 Whenever this minion takes damage, also deal that amount to your hero.
Flavor text
After playing against 5 Annoy-O-Trons, any normal guard will become a Wrathguard.
External links
Wrathguard is a common warlock minion card, from the Grand Tournament set.
How to get
[
]
Wrathguard can be obtained through The Grand Tournament card packs, or through crafting.
| Card | Crafting cost | Disenchanting |
| --- | --- | --- |
| Wrathguard | 40 | 5 |
| Golden Wrathguard | 400 | 50 |
Notes
[
]
Whenever this minion takes damage, it will deal the exact same amount of damage to its controlling hero too. In particular:
Strategy
[
]
This card is basically a Felstalker with a different drawback. It is very useful in an aggressive deck if played on curve due to its high stats for a 2 drop. The user must be careful however because if played late game the enemy will likely attack it with a high Attack minion or high damage spell (like Shield Slam) in order to both remove a threat and deal a high amount of damage to the hero at the same time.
Wrathguard is a good Silence target, and a Light's Champion can be played on curve to remove its drawback, although whether it's worth using including a Silence card to do so is debatable.
Wrathguard is a very good target for Treachery, in that it can synergize with AoE effects Hellfire and Felfire Potion to deal double the damage to the hero or using Shadowflame to also hurt the enemy hero.
Trivia
[
]
Quotes
[
]
Summon

You will regret this.

Attack

Feel my pain!
Lore
[
]

This section uses content from Wowpedia.
The demonic wrathguard are members of the man'ari eredar species that act as an honor guard for the more important members of their race, leaders of the Burning Legion. They appear to be the man'ari analog of warriors. They are also considered to be front-line troops.
The Wrathguard is also a summonable warlock minion in World of Warcraft.
Gallery
[
]
Patch changes
[
]
References
[
]