Wolfrider Thrall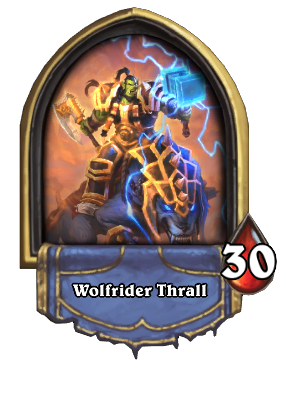 For other appearances of Thrall, see Thrall (disambiguation).
Wolfrider Thrall is an alternate hero for the

Shaman class in Hearthstone.
Wolfrider Thrall is available for players that bought the Tavern Pass and reach level 45 in the Rewards Track.
Once unlocked and selected for use, Wolfrider Thrall is used as the hero whenever playing with a shaman deck. Thrall, Son of Durotan comes with his own portrait and features a animated Hero Power.
For more information, see Alternate heroes.
When viewed in the collection, Wolfrider Thrall has the following flavor text:
The mighty Thrall can vanquish his enemies with Gorehowl, Doomhammmer, or slobbery wolf kisses. Earnable after purchasing the Tavern Pass.
Each hero has their own selection of audio and written emotes that are produced in response to specific events. For more information, see Emote.
Wolfrider Thrall uses some of the same quotes as Thrall. Only different emotes are listed. For a full list, see Thrall#Emotes.
| Type | Emote |
| --- | --- |
| Thanks | The warchief smiles upon you. |
| Well played | You fight with purpose. |
| Greetings | Throm-ka. |
| Mirror Greetings | Lok-regar ogull. |
| Wow | By the spirits! |
| Oops | A miscalculation? |
| Threaten | I am the Horde's fury. |
| Attack | Power of the Horde! |
| Opening remark | The Earth itself is my ally! |
| Mirror start | Not if it's mine... |
| Selection in Arena | Today we ride for victory. |