Witch's Apprentice
Regular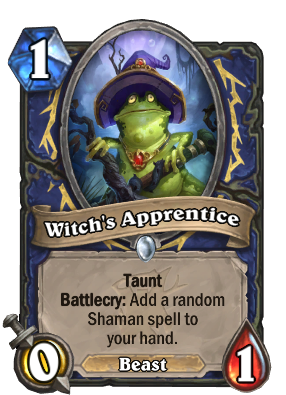 Gold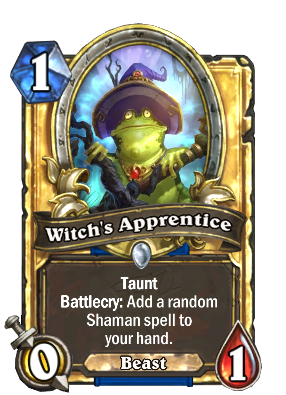 TauntBattlecry:
Add a random Shaman spell to your hand.
Flavor text
Is she a frog that became a witch, or a witch that became a frog?
External links
Witch's Apprentice is a common shaman minion card, from the The Witchwood set.
How to get
Strategy
Possible spells
The below table lists all collectible Shaman spells in Standard format, representing the range of possible spells generated by Witch's Apprentice. For Wild format listings, see Shaman/Wild format.
Name

/ Desc

Rarity
School
Class
Cost
Description
Perpetual Flame
Rare
General
SHAMAN
2
Deal 3 damage to a random enemy minion. If it dies, recast this. Overload: (1)
Showing the only card
Quotes
Lore
The Witch's Apprentice was originally an apprentice to Hagatha the Witch but was turned into a frog when "things went a little bit wrong".[1]
Trivia
According to Senior Game Designer Peter Whalen, Witch's Apprentice is an example of a card where, as soon as the developers received the card art, they knew what the card's stats were going to be — a 0/1 Taunt minion, mirroring the Frog created by Hex — leaving them to figure out a card effect that made sense in the context.[1]
Gallery
Patch changes
References