Whirt the All-Knowing
Regular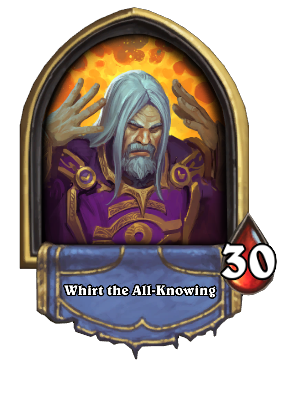 Gold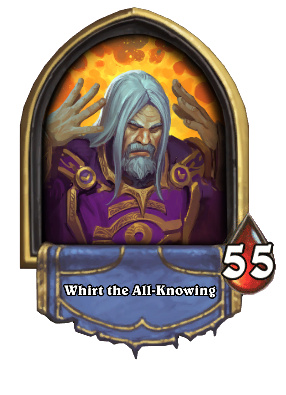 Flavor text
What's the secret to knowing all secrets? It's a secret.
External links
Whirt the All-Knowing is a boss that can be encountered in The Dalaran Heist adventure.
Hero Power
[
]
Normal
Heroic
Decks
[
]
The below classes are listed purely for reference, and have no effect on the boss' use of the cards during the battle.
These decks correspond only to level 6 in Chapter 5. If this boss is encountered on levels 4-5, his deck will be missing 5 random cards.
Strategy
[
]
Whirt relies on the randomness of his deck. Try dealing with whatever secrets he throws at you before going face.
Dialogue
[
]
Introduction
Whirt the All-Knowing

I know exactly where this is going.
Whirt? You've got to be pulling my leg.
Yet still you stand in my way.
Emote Response
Whirt the All-Knowing

Hmmm. Trust me, I know.
Hero Power
Whirt the All-Knowing

Prediction before using

Soon the secrets of the Paladins will reveal theirselves.
The futures holds whispers of the Hunters.
I have forseen the secrets of the Mages.

Correct prediction

Behold the mysteries of the light.
Yes yes, those whispers I spoke of.
And there they are!

Wrong prediction

Just... not right now.
I- we're all Hunters in our own way.
The bow Mages of course. Yes, that's what I meant.

Without prediction

And... yes, that is what I expected.
Shhh. It's a secret. To you.
Wait... well, that'll do.
Idle
Whirt the All-Knowing

I have foreseen that I'd misforesee things as well.
It does get a bit boring knowing what's to come.
Thankfully, I always know what's for lunch.
Player's cards
Whirt the All-Knowing

Secret

I see right through you. Not literally though.
Let's just say, I know what you're up to.

Elite Tauren Chieftain

Are you the cow king?

Cairne Bloodhoof

Cain? Nope just Cairne.
Death
Whirt the All-Knowing

This... was expected!
Defeat
Whirt the All-Knowing

I told you I knew.
Lore
[
]
Whirt the All-Knowing is a human located in the Magus Commerce Exchange in Dalaran. He can provide directions for various locations in the Dalaran.
Gallery
[
]
Patch changes
[
]
The Dalaran Heist
Heroes
Chapter 1: Dalaran Bank

| | |
| --- | --- |
| Level 1 | |
| Level 2 | |
| Level 3 | |
| Level 4 | |
| Level 5 | |
| Level 6 | |
| Level 7 | |
| Level 8 | |

Chapter 2: The Violet Hold

| | |
| --- | --- |
| Level 1 | |
| Level 2 | |
| Level 3 | |
| Level 4 | |
| Level 5 | |
| Level 6 | |
| Level 7 | |
| Level 8 | |

Chapter 3: Streets of Dalaran

| | |
| --- | --- |
| Level 1 | |
| Level 2 | |
| Level 3 | |
| Level 4 | |
| Level 5 | |
| Level 6 | |
| Level 7 | |
| Level 8 | |

Chapter 4: The Underbelly

| | |
| --- | --- |
| Level 1 | |
| Level 2 | |
| Level 3 | |
| Level 4 | |
| Level 5 | |
| Level 6 | |
| Level 7 | |
| Level 8 | |

Chapter 5: Kirin Tor Citadel

| | |
| --- | --- |
| Level 1 | |
| Level 2 | |
| Level 3 | |
| Level 4 | |
| Level 5 | |
| Level 6 | |
| Level 7 | |
| Level 8 | |
| Level 9 | |
| Level 10 | |
| Level 11 | |
| Level 12 | |

Tavern