No Man's Sky Update - The Loop
Play Sound
Weasel Tunneler
40549 • CFM_095
Regular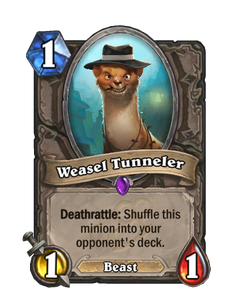 Dimensions:
Full
•
330 x 410px
Golden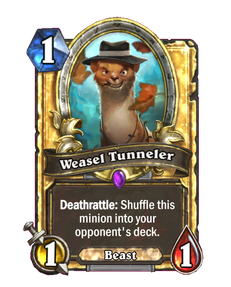 Dimensions:
Full
•
330 x 410px
Deathrattle:
Shuffle this minion into your opponent's deck.
Flavor text
He's the reason the First Bank of Gadgetzan has steel floors.
Keywords
DEATHRATTLE
542
Full tags
RARITY=4 CLASS=12 COLLECTIBLE=1 ELITE=0 COST=1 HEALTH=1 ATK=1 CARDTYPE=4 CARDRACE=20 ENCHANTMENT_BIRTH_VISUAL=0 ENCHANTMENT_IDLE_VISUAL=0 DEATHRATTLE=1 542=1
Wiki tags
Deathrattle, Shuffle into deck
External links
Weasel Tunneler is an epic neutral minion card, from the Mean Streets of Gadgetzan set.
How to get
[
]
Auto-detected sources

| Type | Source | Premium | Q. |
| --- | --- | --- | --- |
| Card packs | | Regular, Golden | 1~2 |
| Crafting | 400 dust | Regular | 1 |
| Crafting | 1600 dust | Golden | 1 |
Notes
[
]
TODO: Weasel Tunneler interactions need to be fully re-tested in Patch 8.2.0. Notably, Weasel Tunneler vs Soul of the Forest now always gives the Treant to the side the Weasel died on, and Weasel Tunneler vs bounce to hand effects never bounces the weasel to hand. https://github.com/HearthSim/hs-bugs/issues/636 Also, Weasel Tunneler seems to move to setaside and create a new copy in your opponent's deck now, hopefully this fixes a lot of bugs. https://github.com/HearthSim/hs-bugs/issues/346#issuecomment-298101603
Using

Feign Death

(and similar effects) will remove the Weasel Tunneler from play and shuffle it into your opponent's deck.
Every time a Weasel Tunneler Deathrattle activates, it changes the controller of the minion. All subsequent deathrattles and on-death triggers will use the new controller of the minion when deciding whether to queue and whether to resolve. Combined with the Dominant Player Bug, This leads to the following consequences:

Resurrect

effects will resummon Weasel Tunneler for who it originally died for, not for who controls the Weasel Tunneler now. This is because they use the Death Event Cache mechanic, which records the controller at the time of death.[8]
When Weasel Tunneler is used to Build-a-Beast, your opponent will not get a Weasel Tunneler on death. Instead, your opponent will get an exact copy of the resulting

Zombeast

, that will include of course Weasel Tunneler's deathrattle effect.
Weasel Tunneler's effect can sometimes cause a glitch that makes the player's deck (on the right side of the board) to look like full even when running low or empty; when empty the slot is glowing orange as normal but cards are still visible. Hovering over the deck still shows the accurate number of cards, though.
Strategy
[
]
Weasel Tunneler offers an interesting - albeit gimmicky - way to counter combo and control decks. By shuffling itself into the opponent's deck, it adds in a chance of them drawing a "dead card", delaying them from drawing a high-cost minion or a combo piece. However, when your opponent does draw the Weasel Tunneler, they can do the same back to you. With two Weasel Tunnelers, it also counters Reno deck archetypes - like a
Beneath the Grounds for any class.
An alternative strategy is to flood the opponent's deck with Weasels. Priest can create as many duplicate Weasels with cards like
Twilight's Call,
Mirage Caller,
N'Zoth, the Corruptor,
Grave Rune, and
Carnivorous Cube, while also benefiting off of them with
Awaken the Makers. Currently, this job is better done with
Bad Luck Albatross, although it does give
Shadowreaper Anduin a low-cost card to refresh the Hero Power with.
You can use this card with
Wyrmrest Purifier to transforms Weasel Tunnelers the opponent shuffles back to your deck to mostly likely better cards.
Artist
[
]
Gallery
[
]
Patch changes
[
]
References
[
]