Wax Elemental
Regular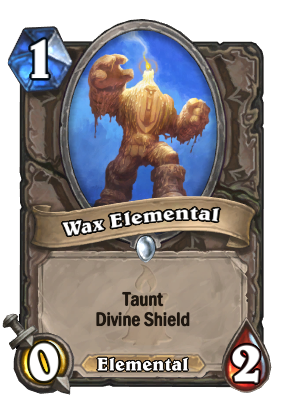 Gold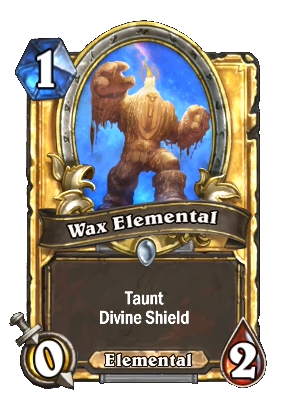 TauntDivine Shield
Flavor text
Takes double damage from wick-based weapons.
External links
Wax Elemental is a common neutral minion card, from the Kobolds & Catacombs set.
How to get
[
]
Wax Elemental can be obtained by:
Opening card packs
Crafting regular version for 40 dust
Crafting golden version for 400 dust
Strategy
[
]
Wax Elemental is similar to Shieldbearer, but can be weaker in the early game and much stronger in the late game. In the late game, this minion can potentially stop two attacks from huge minions, effectively stalling the game. It can also be compared to Annoy-o-Tron, trading it's only attack for one less mana.
The elemental tag can be useful for triggering elemental-synergy.
This minion is theoretically well-statted, having two stats and two abilities, both usually evaluated as worth a stat point. However, with no attack, it suffers from an extremely inefficient stat distribution, offering no offensive power. However, different attack buffs mitigate this, because of which Wax Elemental has seen play in for example Quest Rogue.
Sounds
[
]
Summon
Attack
Death
Gallery
[
]
Patch changes
[
]