Volcanic Potion
Volcanic Potion
Deal 2 damage to all minions.
The secret ingredient in Kazakus's award-winning chili recipe.
Volcanic Potion is an rare mage spell card, from the Mean Streets of Gadgetzan set.
Volcanic Potion can be obtained through Mean Streets of Gadgetzan card packs, or through crafting.
| Card | Crafting cost | Disenchanting |
| --- | --- | --- |
| Volcanic Potion | 100 | 20 |
| Golden Volcanic Potion | 800 | 100 |
As well as being collected in decks, this card can also be generated by the following card.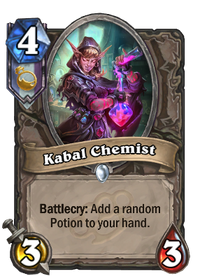 This card is a good counter to aggro decks, often dealing enough damage to clear the board early game. While more powerful than Arcane Explosion, it has the downside of damaging your own board - a rare trait for a Mage AoE spell.
Backstreet Leper's Deathrattle appears to depict the gnome throwing a Volcanic Potion at his enemy.
Volcanic Potion art also appears on the Tavern Brawn-exclusive hero power Brew Potion.