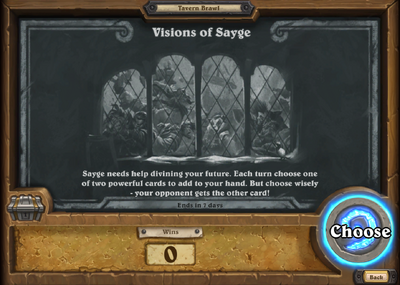 "Sayge needs help divining your future. Each turn choose one of two powerful cards to add to your hand. But choose wisely - your opponent gets the other card!"
Visions of Sayge is a Tavern Brawl. It debuted on January 6th, 2021.
History
[
]
| Tavern Brawl | Start | End |
| --- | --- | --- |
| 291 | January 6, 2021 | January 13, 2021 |
Overview
[
]
This Tavern Brawl gives players prebuilt decks based on popular Standard lists. At the start of each turn, the player is offered a choice between two cards to add to their hand. The card they don't choose is given to the opponent.
Notes
[
]
Cards are still drawn from the deck at the start of the turn.
The chosen cards can come from any class, and are restricted to Standard format cards.
Decks
[
]
Demon Hunter
Druid
Hunter
Mage
Paladin
Priest
Rogue
Shaman
Warlock
Warrior
Strategy
[
]

Please add any available information to this section.
Since you are effectively drawing three cards every turn, your hand will quickly fill up. It's important to keep and choose cheap cards to avoid burning as much as possible. Likewise, it's a good idea to give the opponent huge cards that will clog up their hand.
Trivia
[
]
This is the only Tavern Brawl to use placeholder artwork on the menu screen.
| | Tavern Brawls |
| --- | --- |
| Constructed | |
| Randomized | |
| Premade | |
| Brawliseum | |
| Cooperative | |
| Single-player | |
| Fireside Brawls | |