Uther Lawbringer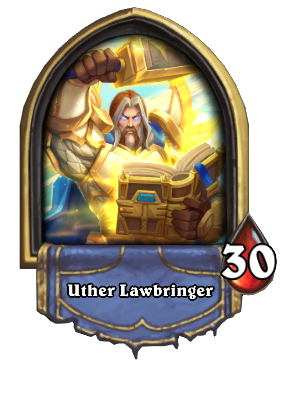 For other appearances of Uther Lightbringer, see Uther Lightbringer (disambiguation).
Uther Lawbringer is an alternate hero for the

Paladin class in Hearthstone.
This is Uther Lightbringer wearing the Lawbringer Armor set.
Uther Lawbringer is one of the options available for players that reach level 50 in the Rewards Track.
Once unlocked and selected for use, Uther Lawbringer is used as the hero whenever playing with a paladin deck. Uther Lawbringer comes with his own portrait and features a animated Hero Power.
For more information, see Alternate heroes.
When viewed in the collection, Uther Lawbringer has the following flavor text:
Unintimidated by page count requirements, Uther has finally penned a full trilogy with The Law and How to Bring It. Obtained by completing the Reward Track.
Each hero has their own selection of audio and written emotes that are produced in response to specific events. For more information, see Emote.
Uther Lawbringer uses some of the same quotes as Uther Lightbringer. Only different emotes are listed. For a full list, see Uther Lightbringer#Quotes.
| Type | Emote |
| --- | --- |
| Thanks | You have earned my thanks. |
| Well played | Nicely done. |
| Greetings | State your case! |
| Mirror Greetings | It will take a while. |
| Wow | What a sight! |
| Oops | I loathe mistakes. |
| Threaten | Those who shun the Light must forever dwell in darkness. |
| Attack | You must obey! |
| Opening remark | I will bring order. |
| Mirror start | Objection! |
| Selection in Arena | Some laws cannot be broken! |