Check out coverage for other Blizzard games below!

| | | |
| --- | --- | --- |
| | | |
This year marks the 12th BlizzCon hosted by Blizzard Entertainment. This conference is the source of major news and announcements from the company, including new games, expansions, and other important content additions and updates.
The Opening Ceremony serves as a teaser for things to come during the Con, with each game typically receiving a "what's next" as well as a "deep dive" with attached Q&A. The deep dive is a more in-depth look at particular upcoming features.
Below is the schedule for upcoming content related to Hearthstone: Heroes of Warcraft. Check back at this blog during and after the listed times to find out what was covered, and be sure to check out the remainder of the wiki for updates!
Note: all times are PST
November 2, 2018 (Friday)
Opening Ceremony
11:00 am - 12:00 pm
New expansion: Rastakhan's Rumble - releases November 4th, 2018
New keyword: Overkill - gives players some sort of benefit is delivering damage greater than what the opponent has; example allows the player to attack up to three times
Spirits: connected to classes, loa
What's Next
2:30 pm - 3:15 pm
Spirits help tie teams together and can be built around. They are all low-cost minions.
Loas are all legendaries, reflecting what is indicative of their representative classes.
Teams all have a loa, which are usually beasts, intended to be played toward the end of the game. The spirit manifests some of the loa's power. They also have a typically legendary troll champion.
Team concepts
More card reveals
Card art
Class champions
November 3, 2018 (Saturday)
Deep Dive
4:30 pm - 5:30 pm
Rumble Run (launches nine days after expansion launch): Players assume the role of a troll, Rikkar, who has not pledged himself to a loa yet. That's the first decision players must make.

Choose a shrine and a team. Shrines are low cost minions. Shrines never die, but go "dormant" if "killed". They will remain dormant for a set number of turns before reactivating.
Fight eight opponents - each class has three unique shrines to play against.
Prize-fighters can be built up, sort of how treasures have worked in the past.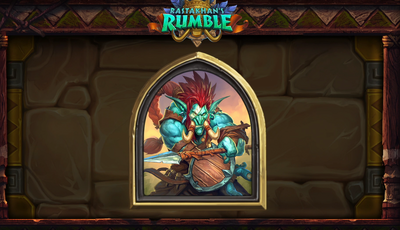 Community content is available under
CC-BY-SA
unless otherwise noted.