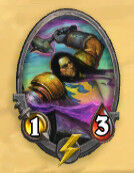 Triggered effects are effects that activate in response to specific events. Triggered effects may belong to minions, weapons or spells (in the form of Secrets), as well as some boss Hero Powers.
Triggered effects include named abilities such as Battlecry and Deathrattle, as well as unnamed effects such as those of Cult Master, Sword of Justice and Ragnaros the Firelord. All Secrets are triggered effects. Many triggered effects must first be put into play in order to become active - such as by playing the minion, equipping the weapon, or casting the Secret - while others activate when the card itself is drawn, discarded or put into play. Different types of triggered effect often share common rules for their activation.
Since the most common types of triggers are represented by keywords such as Battlecry, the term triggered effect is sometimes used more specifically to refer to those not indicated by a keyword, but instead described explicitly in their card text. Such effects are usually - but not always - denoted when in play by a small lightning bolt icon at the bottom of the card's portrait or icon, and can usually be activated any number of times, but only while in play. Any ability that states "at the end of your turn" or "at the start of your turn" is a triggered effect, as are most that state "when" or "whenever".
Notes
[
]
Main article: Advanced rulebook
The interactions and timing of multiple triggered effects are some of the most complex rules in the game. This section is only a summary:
When multiple triggered effects activate at once, such as at the end of a player's turn, the effects will activate in the order in which the minions were summoned, with the minions summoned first activating their triggered effects first. Any deaths resulting from the triggers then resolve at once, followed by consequences from those deaths. However, there are exceptions to this rule.
Triggered effects which trigger from playing cards or casting spells may take place before or after the card takes effect, depending on the trigger. For example, activating Leader of the Pack with a Violet Teacher active will cause her to summon a fresh Violet Apprentice, who will then benefit from the Leader of the Pack buff,[1] while playing Inner Rage on a 3/1 Wild Pyromancer will destroy the minion before it can activate its effect.
For notes on individual types of triggered effects, see the appropriate sections.
Advanced
[
]
Triggered effects require the card not to have been destroyed. However, the game only checks to destroy minions with 0 or negative Health when an event phase ends. This means that a minion can be triggered during the same phase in which it is destroyed, regardless of the order in which the events take place. For example, if three enemy Explosive Sheep are killed by your Flamestrike while you have an Acolyte of Pain on the board, the Acolyte will trigger three times (despite his Health reaching 0 after the first Exploding Sheep's Deathrattle) since he cannot completely die while the Sheep Deathrattles are still being handled. Once all simultaneous effects have resolved, the game will then check for any minions at 0 or lower Health, notice the Acolyte and destroy it. Conversely, Cult Master cannot trigger from the death of a friendly minion killed at the same time as the Cult Master itself, since by the time the game checks for triggers from the deaths, the Cult Master has also been destroyed.
Cards
[
]
For Wild format listings, see

Taohinton/Sandbox3/Wild format
Below are listed all cards which possess or grant triggered effects, divided by the type of trigger.
Using Hero Powers
[
]
Most effects which are triggered by using Hero Powers are denoted by the Inspire keyword. For more details on that effect, see Inspire. Certain other triggered effects are not marked as Inspire effects, but are activated by the use of Hero Powers.
Opponent Hero Power use