Umberwing
Umberwing
| | |
| --- | --- |
| Set: | Demon Hunter Initiate |
| Type: | Weapon |
| Class: | Demon Hunter |
| Rarity: | Common |
| Cost: | 2 |
| Attack: | 1 |
| Durability: | 2 |
| Abilities: | Battlecry, Summon |
| Tags: | Demon-generating |
| Artist: | Kagi |
Battlecry: Summon two 1/1 Felwings.
Demon Hunters refer to these glaives as "the ol' flappy-attackys."
See this card on PlayHearthstone
Umberwing is a common demon hunter weapon card, from the Demon Hunter Initiate set.
Two copies of regular Umberwing are obtained after unlocking Demon Hunter class. They cannot be crafted or disenchanted.
Once the regular version has been obtained, the golden version can be crafted and disenchanted.
| Card | Crafting cost | Disenchanting |
| --- | --- | --- |
| Golden Umberwing | 400 | 50 |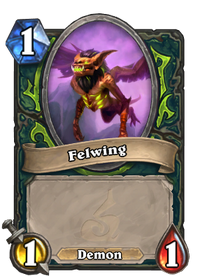 An excellent choice for any aggro or midrange demon hunter deck, generating a weapon and a few minions to take hold of the board or pressure your opponent. While the 1/2 weapon looks unimpressive, its attack can easily be boosted with Demon Claws or other attack-boosting cards demon hunter has available. It also allows you to play Satyr Overseer and activate its effect on curve, or continue a tempo play following up Battlefiend.
Umberwing is an alternate appearance for Aldrachi Warblades, the Vengeance Demon Hunter Artifact weapons in Legion.
Server-side patch (2020-04-02): Now obtainable (locked from use until April 7th, 2020).
Patch 17.0.0.44222 (2020-03-26): Added.