Twilight Darkmender
Twilight Darkmender
| | |
| --- | --- |
| Set: | Whispers of the Old Gods |
| Type: | Minion |
| Class: | Priest |
| Rarity: | Rare |
| Cost: | 5 |
| Attack: | 6 |
| Health: | 5 |
| Abilities: | Battlecry, Restore Health |
| Tags: | Attack-related, C'Thun-related |
| Artist: | Alex Garner |
Battlecry: If your C'Thun has at least 10 Attack, restore 10 Health to your hero.
First she separates them from the lights, washes them in cold water, and hang-dries.
Twilight Darkmender is a rare priest minion card, from the Whispers of the Old Gods set.
Twilight Darkmender can be obtained through Whispers of the Old Gods card packs, or through crafting.
| Card | Crafting cost | Disenchanting |
| --- | --- | --- |
| Twilight Darkmender | 100 | 20 |
| Golden Twilight Darkmender | 800 | 100 |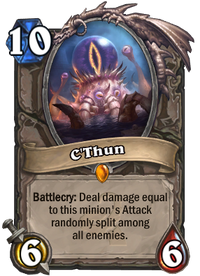 This minion's Battlecry can activate whether C'Thun is in the hand, deck, or battlefield, or even already dead[1]; and it takes into account buffs such as Abusive Sergeant when deciding whether to activate.[2]
This card can still activate its battlecry if the deck contains no C'Thun at all. If the game is played in that a C'Thun would be buffed to 10 attack, regardless if he was put in the deck or not, the Twilight Darkmender would still heal 10 health.[3]
A very strong and vital card in a priest C'Thun deck.
In stats, a 6/5 minion for 5 mana is solid. Her Battlecry can heal the player for 10 Health, or for 20 Health if combined with Brann Bronzebeard. This allows the Priest to more easily survive the early rounds of a match against aggressive decks.
Summon

I feast upon the light.

Attack

Fade away.
"Darkmending" is the use of Shadow magic to restore health and heal wounds. This Darkmender appears to be a member of the Twilight's Hammer cult.