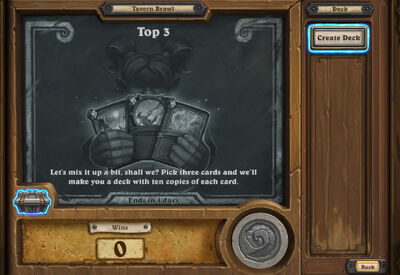 "Let's mix it up a bit, shall we? Pick three cards and we'll make you a deck with ten copies of each card."
Top 3 is a Tavern Brawl. It debuted on September 14, 2016.
This Brawl is a sequel to the earlier Top 2.
History
[
]
| Tavern Brawl | Start | End |
| --- | --- | --- |
| 66 | September 14, 2016 | September 19, 2016 |
| 231 | November 13, 2019 | November 20, 2019 |
| 272 | August 26, 2020 | September 2, 2020 |
| 305 | April 14, 2021 | April 21, 2021 |
The second appearance of this Brawl was a stand-in for Brawliseum - Battle of the Bans, the debut of which was prevented by technical difficulties. After a short period during which players were unable to access Tavern Brawls, the latter Brawl was replaced with Top 3.
Overview
[
]
This Tavern Brawl sees players doing battle with custom decks composed solely of copies of three cards chosen by the player. Each deck includes precisely 10 copies of each chosen card. Players cannot include more than one copy of any card.
Notes
[
]
If

Prince Malchezaar

is chosen for the player's deck, his effect will shuffle 33 (if going first) or 34 (if going second) random legendaries into the player's deck, rather than the usual 5. (The 10 Malchezaars should generate 50 cards in total, but the number is limited by the 60-card deck size limit.)

Despite the large number of cards added, Prince Malchezaar functions as usual, meaning the legendaries generated are random, but unique within the deck (no duplicates).
Strategy
[
]
A huge variety of combinations are possible in this Brawl, some competitive, some just for fun. Some provide reliable but perhaps boring face damage, while other aim for unlikely but potentially spectacular payoffs. A number of decks are listed below, included some strong competitive choices and some fun alternatives.
Most popular
Coin Rogue -

Counterfeit Coin

+

Secret Passage

+

Flik Skyshiv

|

Counterfeit Coin

+

Evasion

+

Flik Skyshiv

|

Counterfeit Coin

+

Secret Passage

+

Pogo-Hopper

|

Counterfeit Coin

+

Secret Passage

+

Edwin VanCleef

|

Counterfeit Coin

+

Secret Passage

+

Arcane Giant

. This has an easier time going second, thanks to the extra coin. Chaining Secret Passages, you can almost infinitely cycle your deck and draw as many Coins as you need. Keep one Secret Passage and the maximum of Counterfeit Coins on mulligan. At first turn, play all the coins (and Pogo-Hoppers with the appropriate build), then cast Secret Passage; keep doing this until you consider it necessary/possible to play a minion, keep in mind the reduced turn time and count the number of coins played.

Flik Skyshiv

will remove an opponent's minion from the game, destroying a third of their deck and likely ruining their combo. This is completely ineffective against decks that don't use minions, however.

Mogu Cultist

can be cycled through to summon all seven early in one turn.

Edwin VanCleef

can grow to enormous stats in a single turn, pushing as much as 30/30. You can potentially summon three of them with a lucky enough draw. Weak against

Plague of Flames

,

Naturalize

and

Devolve

.

Pogo-Hopper

is almost as easy as Embiggen Druid to fill the board and has huge stats. It has exactly the same vulnerabilities as VanCleef, so it is usually only able to defeat the less popular decks, Embiggen Druid and other Rogues if you go first.
Tactics with

Arcane Giant

are the same as with Edwin VanCleef, but it is slightly more difficult to prepare lethal damage due to the small stats of Arcane Giants compared to Edwin VanCleef and does not always guarantee victory if you managed to play only 3 giants (this is important against Embiggen Druid).
The disadvantage of these decks is that the cards swapped by Secret Passage cannot be returned until the end of turn (the cards are temporarily removed from the deck), which prevents numerous use of Secret Passage.
Less common
Other decks
Prior Decks
These decks were used in older versions of the brawl, but have been rendered ineffective or unusable through nerfs. They are listed here for historical reasons.
Mill Druid -

Naturalize

+

Coldlight Oracle

+

Innervate

: This is a straightforward (and super-powered) mill deck, using Coldlight Oracle to bring both players rapidly to fatigue, and Naturalize ensure the opponent gets there first, as well as to deny board control. Innervate provides a lot of tempo, especially with the endless card draw from Oracle, allowing for rapid progress and long turns. Effective against everything except Loatheb Druid and certain extended decks, such as

Prince Malchezaar

.

Healing Touch

is an alternative against burst decks, but Innervate is hard to beat.

Tips: Don't be afraid to play the coin as an inferior Innervate. In an exact mirror match, you should Naturalize your own Oracles before your opponent. By denying your opponent targets for the same, you effectively gain double your two card lead to four, as you stop them from making you draw, while causing them to draw instead. Don't let Naturalizes choke your own hand: have enough to kill priority targets for removal from your opponent, but after that don't be afraid to hit your own Oracles as fatigue growth is stronger than linear board control damage.

Loatheb Druid -

Loatheb

+

Innervate

+

Coldlight Oracle

: This deck plays Loathebs on consecutive turns. This locks out spells, notably removal such as Naturalize which allows for board control. Coldlight Oracle helps with refilling the hand. As most decks in the Brawl are based on spells, this shuts down many, but it is weak against spell-less decks.
Wyrm Mage -

Ice Lance

+

Mana Wyrm

+

Frostbolt

: Lance provides damage from the hand, as well as being a cheap and repeatable buff to Mana Wyrms to finish. Will likely run out of cards quickly and is reliant on multiple Wyrms staying alive to fearsome size for constant damage. Suffers against cheap removal such as Naturalize. Mirror Image is an alternative to one of the spells as a stall, but increases vulnerability to removal.
Burst Shaman -

Rockbiter Weapon

+

Doomhammer

+

Lightning Storm

: A slow deck due to Doomhammer's mana cost and Overload. On turn 6 with max mana to four Rockbiters, a 28 damage OTK from 2x(2+4x(+3)) is possible, with the two on-turn attacks allowing you to kill the enemy from 32 HP. It does not matter when the coin is played as long as it allows extra Rockbiters to be played. The third card is used to enable the combo, in this case to slow Mill's Oracle spam. This stalls with a

Lightning Storm

on turn 3 as a spell board clear to avoid

Naturalize

. Against other match ups, you can use spare mana on

Totemic Call

; without Naturalize your third could alternatively synergise with cheap

Thing from Below

spam.
SN1P-SN4P decks -

Mechwarper

+

Galvanizer

+

SN1P-SN4P

: Get three Mechwarpers in hand and reduce them with Galvanizer. Magnetizing to a Galvanizer creates a hitter with 80+ attack as early as turn 3. Warlock is the best candidate for this list thanks to

Life Tap

, although it helpfully can be played by any class.
Archetypes
[
]
Certain archetypes exist within various different combinations, often deciding in themselves the outcome of the match.
Mill: Due to the limited means of countering fatigue and its rapid pace, Milling beats most decks.

Innervate

makes Druids the undisputed master of milling this Brawl, especially as

Loatheb

and

Prince Malchezaar

are the only real counters.

Naturalize

serves as very effective removal.
Deck extension: Uses cards that shuffle cards into the deck, such as the ostensibly lengthy minion deck of Prince Malchezaar. This serves as a hard counter to mill decks. Combine with removal or healing to give the player time to get their legendaries out. An alternative is to use

Golden Monkey

to replace the whole deck with Legendaries, seeing as though you will be drawing a lot against a mill anyway. The doubled card from a

Forgotten Torch

also fits into this category, albeit less strongly than Malchezaar. Similarly the Rogue's

Beneath the Grounds

or Warlock's

Curse of Rafaam

can be used to extend the opponent's deck, jamming them and stopping their mill cards from coming into play.
Removal: Decks with strong minion removal are usually control decks, and are often hard counters to minion-based decks. These tend to be weak to burst decks unless they include healing, and are ineffective against mill. These spells can be countered by blocking spell draw, or
Healing: An alternative to removal, effective against burst decks but less so against minion decks. Healing and removal can be combined to form a very strong control deck, but this is still weak to mill without Malchezaar.
Burst: These decks deal damage from hand, and can win in any matchup, with their speed giving them a chance even against mill decks. Discard Warlock is a strong example this Brawl.
Cost-reduction: Use of

Mechwarper

or

Sorcerer's Apprentice

to reduce card cost to 0 can dramatically increase the amount of cards played per turn, assuming they have been drawn.
Fast minion/minion buffs: These decks fill the board with enough buffed minions, such as

Mana Wyrm

, to threaten lethal in a few turns. Weak against removal, especially as they usually lack draw to replace the lost minions. Usually not fast enough to counter Mill Druid, but may have a chance against burst decks.
Slow minion/big minion: These decks focus on minion abilities or stats. They may use

Barnes

to make Deathrattle or ability copies early on, or try to stall long enough to be able to play them from hand. Must include removal or healing to survive against faster decks. Weak against removal.
Stealth: The most common example is the combination of Rogue's

Cold Blood

and

Conceal

, with a low-cost Stealth minion such as

Worgen Infiltrator

. This is impossible to counter without any AoE-damage, random damage or Taunt minions.
Trivia
[
]
Following the first run of this Brawl (September 2016) the developers released some statistics regarding "a few of the interesting, exciting, or funny combinations" seen:
The gnome in this Brawl's art is holding

Lightning Storm

,

Fiery War Axe

and

Flare

, a combination that is not only impossible (being cards from three different classes) but also not particularly effective.
| | Tavern Brawls |
| --- | --- |
| Constructed | |
| Randomized | |
| Premade | |
| Brawliseum | |
| Cooperative | |
| Single-player | |
| Fireside Brawls | |