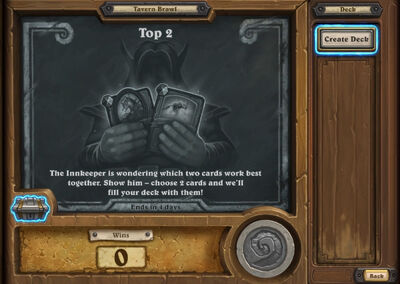 "The Innkeeper is wondering which two cards work best together. Show him - choose 2 cards and we'll fill your deck with them!"
Top 2 is a Tavern Brawl. It debuted on May 11, 2016.
This Brawl inspired the similar Top 3.
History
[
]
| Tavern Brawl | Start | End |
| --- | --- | --- |
| 48 | May 11, 2016 | May 16, 2016 |
Overview
[
]
This Tavern Brawl sees players doing battle with custom decks composed solely of copies of two cards chosen by the player. Each deck includes precisely 15 copies of each chosen card.[1]
Strategy
[
]
A huge variety of combinations are possible in this Brawl, some competitive, some just for fun. Some 'decks' provide reliable but perhaps boring face damage, while other aim for unlikely but potentially spectacular payoffs. A number of decks are listed below, included some strong competitive choices and some fun alternatives.
Wild
[
]
Trivia
[
]
The blood elf in this Brawl's art is holding Acidic Swamp Ooze and Hellfire, a combination which is unlikely to prove effective, especially given that Hellfire will destroy the player's own Acidic Swamp Oozes.
References
[
]
| | Tavern Brawls |
| --- | --- |
| Constructed | |
| Randomized | |
| Premade | |
| Brawliseum | |
| Cooperative | |
| Single-player | |
| Fireside Brawls | |