GTA: The Criminal Enterprises - The Loop
Play Sound
Tipsi Wobblerune
53815 • DALA_BOSS_38h
Regular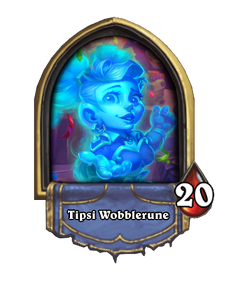 Dimensions:
Full
•
330 x 410px
Golden
Dimensions:
Full
•
330 x 410px
She's a portable portal party!
Full tags
CLASS=4 CARDTYPE=3 HEALTH=30 HERO_POWER=53816 HERO_DECK_ID=2086 1201=10 HEROIC_HERO_POWER=56015 1279=2306 HIDE_WATERMARK=1
Wiki tags
None
External links

It is a part of limited content and does not appear in any other
game modes
.
Tipsi Wobblerune is a boss that can be encountered in The Dalaran Heist adventure.
Hero Power
[
]
Generated cards
Special cards
[
]
Decks
[
]
The below classes are listed purely for reference, and have no effect on the boss' use of the cards during the battle.
Strategy
[
]
Tipsi has a lot of spell interaction cards which work well with her hero power. Kill her minions in order to have an easier time playing.
Dialogue
[
]
Before match
Arch-Villain Rafaam

Tipsi is opening up portals willy-nilly. That is of course the most dangerous of nillys.
Introduction
Tipsi Wobblerune

Are you crashing my portal party?!
Emote Response
Tipsi Wobblerune

It's MY party, and I'll crash if I wanna!
Hero Power
Tipsi Wobblerune

Join my tavern crawl!
Now we're thinking with portals!
Party over here! And there!
Party over there! Wait, no, it's here.
We've got party people from all over!
Idle
Tipsi Wobblerune

Ever seen the Dark Portal? It's something else.
Portal's glowin', party's goin'.
What's wrong?
Casts the portal
Tipsi Wobblerune

Here we go!
Let's go everywhere I wanna be.
Now this is a party!
Portals are the only way to travel.
Where does it go? Nobody knows!
Where to next?
Ooh, let's turn up the heat! (

Firelands Portal

)
Player's cards
Tipsi Wobblerune

Portal

I love BYOP parties - bring your own portals!

Sanguine Reveler

HEY! You were NOT invited!

Gather Your Party

The more, the merrier!

Twisting Nether

You party HARD!
Death
Tipsi Wobblerune

(yell)
Defeat
Tipsi Wobblerune

Guess I'll see you on the other side!
Lore
[
]
Tipsi Wobblerune is a gnome who acts as host during the Kirin Tor Tavern Crawl.
Gallery
[
]
Patch changes
[
]
The Dalaran Heist
Heroes
Chapter 1: Dalaran Bank

| | |
| --- | --- |
| Level 1 | |
| Level 2 | |
| Level 3 | |
| Level 4 | |
| Level 5 | |
| Level 6 | |
| Level 7 | |
| Level 8 | |

Chapter 2: The Violet Hold

| | |
| --- | --- |
| Level 1 | |
| Level 2 | |
| Level 3 | |
| Level 4 | |
| Level 5 | |
| Level 6 | |
| Level 7 | |
| Level 8 | |

Chapter 3: Streets of Dalaran

| | |
| --- | --- |
| Level 1 | |
| Level 2 | |
| Level 3 | |
| Level 4 | |
| Level 5 | |
| Level 6 | |
| Level 7 | |
| Level 8 | |

Chapter 4: The Underbelly

| | |
| --- | --- |
| Level 1 | |
| Level 2 | |
| Level 3 | |
| Level 4 | |
| Level 5 | |
| Level 6 | |
| Level 7 | |
| Level 8 | |

Chapter 5: Kirin Tor Citadel

| | |
| --- | --- |
| Level 1 | |
| Level 2 | |
| Level 3 | |
| Level 4 | |
| Level 5 | |
| Level 6 | |
| Level 7 | |
| Level 8 | |
| Level 9 | |
| Level 10 | |
| Level 11 | |
| Level 12 | |

Tavern