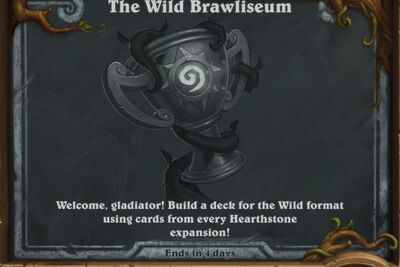 Welcome, gladiator! Build a deck for the Wild format using cards from every Hearthstone expansion!
The Wild Brawliseum is a Tavern Brawl. It debuted on February 28, 2018. For exact times, see the schedule.
History
[
]
| Tavern Brawl | Start | End |
| --- | --- | --- |
| 142 | February 28, 2018 | March 5, 2018 |
Overview
[
]
This Tavern Brawl is a cross between what we're used to seeing for Heroic Brawls and bits of Arena.
You will pay an entry fee equal to an Arena run to take part in this Tavern Brawl.
Using cards in your own collection, you build a deck for the wild format.
Like Arena or a Heroic Brawl, once you lose 3 games in the Wild Brawliseum you are out.
Rewards will be given to players based on their performance with their deck, equal to the Arena reward structure as seen below.
Your first run of this brawl will be free! There's nothing to lose!
Notes
[
]
This brawl is a part of the 2018 Wildfest Hearthstone event.
Strategy
[
]
There is no strategy involved necessarily, it all comes down to which cards you have or don't. For an advantage over the opponent build a deck who's cards have not been altered too much. A deck which was once popular will guaranty a win. An example of this is Secret Paladin.
| | Tavern Brawls |
| --- | --- |
| Constructed | |
| Randomized | |
| Premade | |
| Brawliseum | |
| Cooperative | |
| Single-player | |
| Fireside Brawls | |