The Whisperer
Regular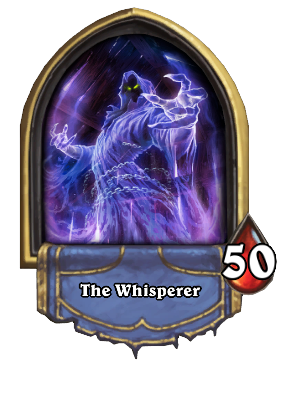 Gold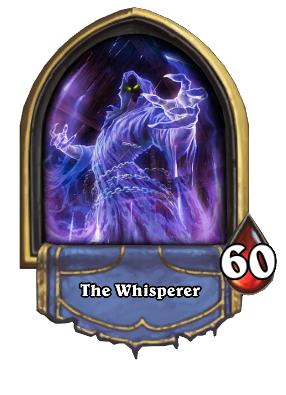 Flavor text
Do you hear the echoes of his whispers?
External links
The Whisperer is a boss that can be encountered during the Monster Hunt.
Hero power
[
]
Passive
Deck
[
]
The below classes are listed purely for reference, and have no effect on the boss' use of the cards during the battle.
Dialogue
[
]
Before match
Hagatha the Witch

In dead of night and dark of wood, the whispers whisper back.
Introduction
The Whisperer

This mist calls...
Emote Response
The Whisperer

Breathe...
Player plays the echo of a card
The Whisperer

Yes...
Another...
More...!
Hmhmhahaha.
Death
The Whisperer

(yell)
Defeat
The Whisperer

Better to burn out than fade away...
Strategy
[
]
Tess Greymane
[
]
Since Patch 16.0.0.37060 pressing a hero power before any spell is cast and further easy win with Small Rock became impossible.
As a result, Tess Greymane doesn't have any specificities in this encounter.
The only strategy is to benefit of Echo at maximum. The most useful tools for that is Khadgar's Scrying Orb / Sticky Fingers passives, any Jade, anti-magic cards and at least Edwin VanCleef or Questing Adventurer if you're sure The Whisperer doesn't have Devolve or Deadly Shot in his hand. Overall, cheap cards are still very valuable in this battle because they give more benefits than heavy ones. Same for The Whisperer.
Darius Crowley
[
]
You should use your taunt minions to draw out his spells. When you have a sort of wall, you may start being aggressive.
Houndmaster Shaw
[
]
The Whisperer relies on the fact that he can cast a spell twice. To counter this, try dropping powerful minions to bait him into emptying his hand.
Toki, Time-Tinker
[
]
If Toki can get several low cost spells and a spell reducer, she can use Arcane Missiles to deal a huge amount of damage (you can reach this with Khadgar's Scrying Orb, Sorcerer's Apprentice and Flamewaker). Alternatively, if you have enough spells you can turn the bosses hero power against him by dealing with his minions. Also, just like Tess Greymane you can try to buff your Mana Wyrm with low-cost spells.
Gallery
[
]
Patch changes
[
]
Monster Hunt
Heroes
Level 1
Level 2
Level 3
Level 4
Level 5
Level 6
Level 7
Level 8




Final Challenge