The Rat King
Regular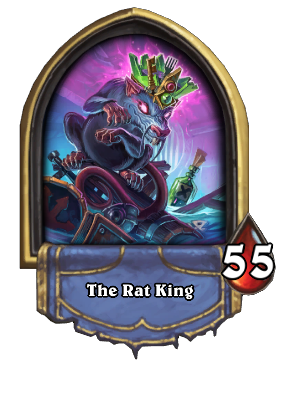 Gold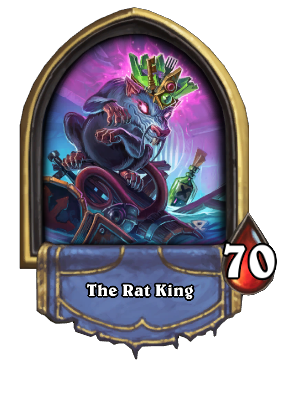 Flavor text
There must always be a rat king.
External links
For The Rat King's other appearances, see The Rat King (disambiguation).
The Rat King is a boss that can be encountered in Chapter 4 of The Dalaran Heist adventure.
Hero Power
[
]
Normal
Heroic
Summoned minions
Special cards
[
]
Decks
[
]
The below classes are listed purely for reference, and have no effect on the boss' use of the cards during the battle.
Strategy
[
]
Because of Underbelly Rat, you will have to take it down slowly. Get it to a low amount of health and kill any Underbelly Rats, followed by the boss itself.
Dialogue
[
]
Before match
Blastmaster Boom

Is that rat wearin' a little crown? That's adorable! Okay squash it.
Introduction
The Rat King

Raay Yah!
Ratty looking tasty!
King of Rats, hmph! Me rat form superior!
Emote Response
The Rat King

Bah ra a!
Death
The Rat King

(screeching)
Defeat
The Rat King

Gra giga blah!
Lore
[
]
The Rat King is unique to Hearthstone.
Gallery
[
]
Patch changes
[
]
The Dalaran Heist
Heroes
Chapter 1: Dalaran Bank

| | |
| --- | --- |
| Level 1 | |
| Level 2 | |
| Level 3 | |
| Level 4 | |
| Level 5 | |
| Level 6 | |
| Level 7 | |
| Level 8 | |

Chapter 2: The Violet Hold

| | |
| --- | --- |
| Level 1 | |
| Level 2 | |
| Level 3 | |
| Level 4 | |
| Level 5 | |
| Level 6 | |
| Level 7 | |
| Level 8 | |

Chapter 3: Streets of Dalaran

| | |
| --- | --- |
| Level 1 | |
| Level 2 | |
| Level 3 | |
| Level 4 | |
| Level 5 | |
| Level 6 | |
| Level 7 | |
| Level 8 | |

Chapter 4: The Underbelly

| | |
| --- | --- |
| Level 1 | |
| Level 2 | |
| Level 3 | |
| Level 4 | |
| Level 5 | |
| Level 6 | |
| Level 7 | |
| Level 8 | |

Chapter 5: Kirin Tor Citadel

| | |
| --- | --- |
| Level 1 | |
| Level 2 | |
| Level 3 | |
| Level 4 | |
| Level 5 | |
| Level 6 | |
| Level 7 | |
| Level 8 | |
| Level 9 | |
| Level 10 | |
| Level 11 | |
| Level 12 | |

Tavern