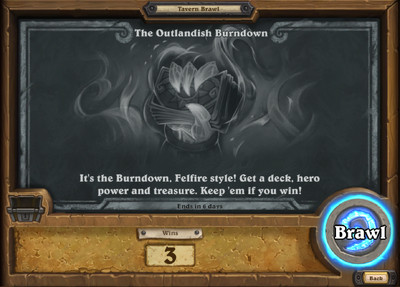 "It's the Burndown, Felfire style! Get a deck, hero power and treasure. Keep 'em if you win!"
The Outlandish Burndown is a Tavern Brawl. It debuted on June 24, 2020. For exact times, see the schedule. It is a Felfire Festival-themed spinoff of the earlier The Burndown!.
History
[
]
| Tavern Brawl | Start | End |
| --- | --- | --- |
| 263 | June 24, 2020 | July 1, 2020 |
Overview
[
]
The basic rules of this brawl are identical to The Burndown!. The first time players play this Brawl, they are given a random class and unique randomly-generated deck. Each deck has a name (a rough descriptor of the deck type followed by a number) which replaces the player's username. At the end of each game, the loser gains a copy of their opponent's deck, while the winner retains theirs. Decks last for the entire duration of the brawl and are only removed upon losing, causing the stronger decks to slowly spread.
However, each deck begins with a random Passive treasure, and players have special hero powers from either Play mode or the adventures and missions The Dalaran Heist, Tombs of Terror, Galakrond's Awakening, or Trial by Felfire.
Notes
[
]
Decks appear to be randomly-generated, but based on the Dalaran Heist bucket system.
Decks can break normal deck-building rules in regards to duplicates.
Treasures
[
]
Hero Powers
[
]
Decks
[
]
Strategy
[
]
Known bugs
[
]
If a Demon Hunter with the Burning Rage Hero Power (such as Glaives of Fury 104) either dies or reaches their tenth turn, they will transform into Demonic Illidan and end the game instantly. This is because it is coded to work the same way as Illidan's boss fight in the Trial by Felfire story, where he transforms the same way, but since there is no cutscene like in the adventure the game immediately ends. This bug has been scheduled for a hotfix.[1]
| | Tavern Brawls |
| --- | --- |
| Constructed | |
| Randomized | |
| Premade | |
| Brawliseum | |
| Cooperative | |
| Single-player | |
| Fireside Brawls | |