The Demon Seed
Regular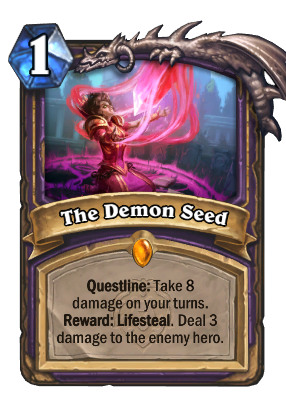 Gold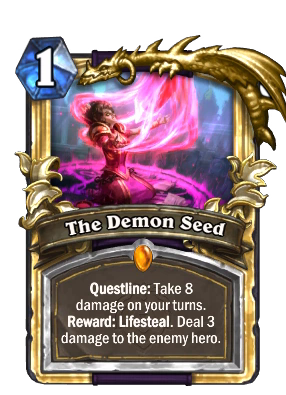 Questline:
Take 8 damage on your turns. 
Reward:
Lifesteal
. Deal 3 damage to the enemy hero.
Flavor text
Just need some elbow grease to get this working. Oh, and your soul.
External links
The Demon Seed is a legendary warlock spell card, from the United in Stormwind set.
How to get
[
]
The Demon Seed can be obtained by:
Opening card packs

Crafting regular version for 1600 dust
Crafting golden version for 3200 dust
Completing Climbing the Ranks achievements (Regular only)

| | Category | Name | Description | Rewards |
| --- | --- | --- | --- | --- |
| | Game Modes - Ranked - | Climbing the Ranks | Reach Legend in Ranked (any format). | 50 , Random Recent Expansion Legendary Card,Legend Card Back |
Related cards
[
]
Notes
[
]
Strategy
[
]
The Demon Seed is a very costly Questline, with a very costly reward. In total it requires taking 24 damage from yourself, although you will heal 6 from the progression of the Questline. However, the reward of Blightborn Tamsin is definitely worth it, as playing it can nearly ensure victory. Due to Warlock's hero power dealing damage to themself, this helps add to the damage as well as draw resources. Along with this, there are a plethora of cards that could be used to speed up this process, with spells like Raise Dead, Unstable Shadow Blast, or Backfire, which all damage the hero. In terms of minions, there is Flame Imp (Core) and Bloodbound Imp.
This damage however must be healed, and warlock has that covered as well. With cards like Drain Soul (Core), Touch of the Nathrezim, or anything that produces Soul Fragment, all being able to heal the player before you can play Tamsin.
Once Tamsin is unlocked, the game is practically won, as you have a hand and deck full of cost-efficient minions and spells that now deal damage to the other hero. As Tamsin's battlecry cannot be disabled, there is little the opponent can do besides attempt to outheal your damage or kill you quickly before your damage adds up.
Achievements
[
]
There are 3 achievements related to The Demon Seed.
Lore
[
]

This section uses content from Wowpedia.
The Demon Seed is a powerful tool for the Burning Legion, guarded by Xelnaz. It rests in a cave on Dreadmist Peak, above a demonic altar of fire. The Burning Blade rallies around this relic. For reasons unknown, Neeru Fireblade wished to destroy this artifact, although it was a valuable asset of the Shadow Council. It appears that it was never destroyed and now Balgor Whipshank wants it taken to his sister Nagala Whipshank. It's unknown what she plans to do with it.
This card's art depicts Tamsin Roame, having found The Demon Seed after the battle with Kurtrus, uses it for a ritual to summon Anetheron and attack Stormwind City.
Gallery
[
]
Patch changes
[
]
References
[
]