Fire Emblem Warriors: Three Hopes - The Loop
Play Sound
The subject of this article is part of the
Rise of Shadows's The Dalaran Heist.
The Dalaran Heist is a single-player game mode added with the Rise of Shadows expansion. The mode released on May 16, 2019, 5 weeks after the expansion's launch.
The Dalaran Heist uses a format like the previous single-player campaigns, but with some elements from Adventures as well. The game mode includes five chapters containing eight bosses each. The first chapter is free to play. Additional chapters cost 700 gold or $6.99 USD each, or players can unlock the entire adventure for $19.99 USD.[1]
Reaching the fifth boss of each chapter gives the player 3 Rise of Shadows card packs, and completing all five wings grants a Golden Classic pack, a total of 16 card packs. Players also earn a collectible golden
Zayle, Shadow Cloak and two unique card backs for completing all five chapters on both normal or Heroic difficulties.[2]
Rules
[
]
The objective of the Dalaran Heist is to defeat eight bosses of increasing difficulty to win the run.
The player plays as one of nine heroes, starting with a deck of ten cards, which differs for each hero.

Initially, only Rakanishu is selectable. Unlocking a chapter unlocks additional heroes.

When selecting a hero, the player can choose a Hero Power and starting deck for the hero. New Hero Powers are unlocked by fulfilling certain conditions between games, and additional starting decks are unlocked by defeating a specified number of bosses.

Unlocks are kept separate between regular and Heroic modes.

The player starts with 10 Health, and gains an additional 5 Health per defeated boss, up to 45 Health for the eighth, and final boss.
The player always goes first. The enemy also does not get

The Coin

. On round 6, the boss starts with 1 mana crystal, on round 7 the boss starts with 2 mana crystals, and on round 8 the boss starts with 3.
After each round, the player is offered three bundles of three cards each. (listed below) The player can only select one of these three bundles. This allows the player to increase their deck size in tandem with the boss' decks increasing in size.
Should a game end in a tie, the player will be given the chance to try the round again instead of restarting the run.
Each chapter starts with a Twist, adding a special condition to every battle. In Anomaly Mode, a random Twist will be used.
After rounds 1 and 5, the player receives a Passive buff, selected from one of three random passive buffs from the pool of Passives. (listed below)
These passives give a permanent effect to the player for the rest of the run. These are applied at the start of the match, meaning some buffs that affect cards will not affect cards added to your hand or deck later in the game.
After rounds 3 and 7, the player receives a Treasure card, selected from one of three random cards from the pool of Treasure cards. (listed below) These are very powerful cards, and often have low mana costs.
Between rounds 3-4 and 5-6, the player will enter a Friendly Encounter. During this section, the player can spend "gold" to modify their deck in various ways offered, such as adding or removing minions from your deck or giving them a permanent buff.
Twists
[
]
Each chapter of the adventure has a unique Twist that affects the game.
Coin-Filled Coffers: (Chapter 1) The enemy always starts with a 0/3

Cache of Cash

in play. When destroyed, two Coins will be added to both players' hands.
Imprisoned Minions: (Chapter 2) Each player always starts with a

Violet Prison

in play. The prisons are dormant, and they each contain a random minion. The prison will be replaced with the aforementioned minion after a number of turns equal to the minion's mana cost. The minion cannot attack on the turn it is summoned unless it has Rush or Charge.
Crowded Streets: (Chapter 3) Each player always starts with three random Carts in play, they can either be a

Dessert Cart

, a

Fish Cart

, a

Meat Cart

, or a

Fruit Cart

. They are dormant and cannot be removed. Their primary purpose is to take up space on the board so that both players can only have up to four minions in play at any time.
Swapped Attack and Health: (Chapter 4) The Health and Attack of all minions are swapped.
Four Additional Encounters: (Chapter 5) There are four additional bosses in the fifth chapter, for a total of twelve bosses. The last four bosses are always the same for every run. The player picks a Treasure card after rounds 8-11.
Anomaly Mode
[
]
Anomaly Mode is unlocked when the player has all five chapters of The Dalaran Heist unlocked. It can be activated by clicking the button above the "Start" button before each chapter. Anomaly Mode adds an additional Twist to the selected chapter. The Twist is rolled before chapter selection and can be seen when selecting it.
Friendly Encounter
[
]
Main article:

Bartender Bob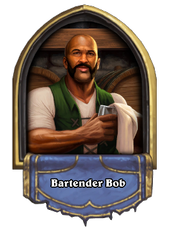 Between rounds 3 and 4 and rounds 5 and 6, the player will enter a Friendly Encounter with
Bartender Bob in one of his many taverns (or on rare occasions,
Bartendotron). Inside his tavern, 4 minions from the player's deck will be placed on the board, and 4 random minions will be placed on Bob's side of the board. The player will receive 3-5 cards from Bob that can modify the player's Adventure Deck, with effects such as adding or removing minions on the board or permanently buffing a specific card. Each of Bob's cards costs 0 or 1 "Gold" (mana), and the player has 2 Gold to spend in the tavern.
Heroes
[
]
Hero
Unlocks at
Alternate Hero Powers

Mage
Available at start

Unlock: Summon 25 Elementals

Unlock: Freeze 25 Minions

Shaman
Chapter 2

Unlock: Summon 25 Totems

Unlock: Overload 25 Mana

Hunter
Chapter 2

Unlock: Play 15 Secrets

Unlock: Summon 50 Beasts

Priest
Chapter 3

Unlock: Restore 50 Health

Unlock: Cast 50 Spells

Rogue
Chapter 3

Unlock: Summon 25 Pirates

Unlock: Draw 100 cards

Warrior
Chapter 4

Unlock: Damage 100 Minions

Unlock: Gain 50 Armor

Druid
Chapter 4

Unlock: Play 15 Choose One Cards

Unlock: Gain Attack 25 times

Warlock
Chapter 5

Unlock: Use Hero Power 25 times

Unlock: Summon 50 Demons

Paladin
Chapter 5

Unlock: Equip 10 Weapons

Unlock: Lose Divine Shield 25 times
Starting Cards
[
]
Loot Cards
[
]
Passives
[
]
New
[
]
Returning
[
]
Treasures
[
]
Card Bundles
[
]
After each win, the player gets to choose three cards to add to their deck. The three cards chosen belong to the same bundle, being selected from it randomly; the player then chooses one selection of three cards from three options. Each selection may contain multiple copies of the same card.
Rakanishu (Mage)
[
]
Vessina (Shaman)
[
]
| Battlecry | Big Shaman | Carvings | Elemental Wrath | Fishy | Flood | Legends | Overload | Regeneration | Shifting Scales | Spirits | Sssspells |
| --- | --- | --- | --- | --- | --- | --- | --- | --- | --- | --- | --- |
| Blazing Invocation | Windfury | Primal Fusion | Fire Fly | Toxfin | Totemic Smash | Electra Stormsurge | Finders Keepers | Mistress of Mixtures | Mutate | Ancestral Spirit | Earth Shock |
| Brrrloc | Corpsetaker | Totemic Smash | Elementary Reaction | Unite the Murlocs | Voltaic Burst | Zentimo | Sludge Slurper | Potion Vendor | Evolve | Loot Hoarder | Lightning Bolt |
| Murmuring Elemental | Muckmorpher | Kobold Hermit | Fire Plume Harbinger | Ghost Light Angler | Maelstrom Portal | Barista Lynchen | Tunnel Trogg | Witch's Brew | Shifter Zerus | Nerubian Egg | Witch's Apprentice |
| Brann Bronzebeard | White Eyes | Primalfin Totem | Menacing Nimbus | Ice Fishing | Primalfin Totem | Hallazeal the Ascended | Ancestral Knowledge | Earthen Ring Farseer | Unstable Evolution | Reincarnate | Crackle |
| Zola the Gorgon | Zilliax | Totem Golem | Sandbinder | Murloc Tidehunter | Feral Spirit | White Eyes | Crushing Hand | Healing Rain | Big Bad Voodoo | Shallow Gravedigger | Maelstrom Portal |
| Rumbling Elemental | Eureka! | Flametongue Totem | Tol'vir Stoneshaper | Primalfin Totem | Flametongue Totem | Zilliax | Eternal Sentinel | Healing Wave | Devolve | Spirit Echo | Electra Stormsurge |
| Saronite Chain Gang | Al'Akir the Windlord | Mana Tide Totem | Earth Elemental | Rockpool Hunter | Spirit Echo | Emperor Thaurissan | Lava Shock | Hot Spring Guardian | Spirit Echo | Arfus | Haunting Visions |
| Barista Lynchen | Ragnaros the Firelord | Nightmare Amalgam | Servant of Kalimos | Soul of the Murloc | Tuskarr Totemic | Grumble, Worldshaker | Likkim | Jinyu Waterspeaker | Tinkmaster Overspark | Baron Rivendare | Lava Burst |
| Corpse Raiser | Splitting Festeroot | Primal Talismans | Fire Elemental | Underbelly Angler | Call in the Finishers | Krag'wa, the Frog | Stormforged Axe | Lifedrinker | Zentimo | Piloted Shredder | Lightning Storm |
| Doppelgangster | The Lich King | Tuskarr Totemic | Baron Geddon | Coldlight Seer | Bloodlust | Sylvanas Windrunner | Drakkari Defender | Shroom Brewer | Hex | Spiritsinger Umbra | Wicked Witchdoctor |
| Fungalmancer | Walking Fountain | Totem Cruncher | Blazecaller | Murloc Warleader | Fungalmancer | The Mistcaller | Elemental Destruction | Tidal Surge | Lotus Illusionist | Abomination | Azure Drake |
| Loatheb | Malygos | Draenei Totemcarver | Stone Sentinel | Primalfin Lookout | Eccentric Scribe | Swampqueen Hagatha | Feral Spirit | Antique Healbot | Djinni of Zephyrs | Carnivorous Cube | Hagatha's Scheme |
| Grumble, Worldshaker | Ysera | Wicked Witchdoctor | Al'Akir the Windlord | Call in the Finishers | Necrotic Geist | Kel'Thuzad | Unbound Elemental | Hallazeal the Ascended | Doppelgangster | Corpse Raiser | Bogshaper |
| The Mistcaller | Big Bad Archmage | Thunder Bluff Valiant | Kalimos, Primal Lord | Gentle Megasaur | Rain of Toads | Marin the Fox | Flamewreathed Faceless | Rotten Applebaum | Faceless Manipulator | Feugen | Hagatha the Witch |
| Swampqueen Hagatha | Y'Shaarj, Rage Unbound | Windshear Stormcaller | Ragnaros the Firelord | Murloc Tastyfin | Spark Drill | Medivh, the Guardian | Volcano | Deranged Doctor | Muckmorpher | Stalagg | The Runespear |
| Primordial Drake | | Thing from Below | Walking Fountain | Old Murk-Eye | Wobbling Runts | Ragnaros the Firelord | Lesser Sapphire Spellstone | | Thrall, Deathseer | White Eyes | Malygos |
| Shudderwock | | | Ozruk | Scargil | Sated Threshadon | The Lich King | Snowfury Giant | | Azalina Soulthief | Cairne Bloodhoof | Yogg-Saron, Hope's End |
| | | | | Siltfin Spiritwalker | Stormwind Champion | Ysera | | | Swampqueen Hagatha | Sylvanas Windrunner | |
| | | | | Finja, the Flying Star | Onyxia | | | | | Da Undatakah | |
| | | | | Corrupted Seer | | | | | | N'Zoth, the Corruptor | |
| | | | | Everyfin is Awesome | | | | | | | |
| | | | | Neptulon | | | | | | | |
Ol' Barkeye (Hunter)
[
]
Kriziki (Priest)
[
]
Captain Eudora (Rogue)
[
]