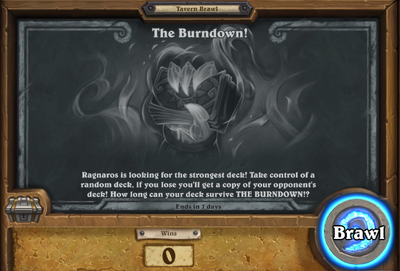 "Ragnaros is looking for the strongest deck! Take control of a random deck. If you lose you'll get a copy of your opponent's deck! How long can your deck survive THE BURNDOWN!?"
The Burndown! is a Tavern Brawl. It debuted on July 24, 2019. For exact times, see the schedule.
History
[
]
| Tavern Brawl | Start | End | Notes |
| --- | --- | --- | --- |
| 215 | July 24, 2019 | July 31, 2019 | Awarded a Saviors of Uldum card pack. |
| 247 | March 4, 2020 | March 11, 2020 | Renamed to The Burndown - Rekindled. First line of the description changed to "The Burndown returns and is better than ever!" |
Overview
[
]
The first time players play this Brawl, they are given a random class and unique randomly-generated deck. Each deck has a name (a rough descriptor of the deck type followed by a number) which replaces the player's username. At the end of each game, the loser gains a copy of their opponent's deck, while the winner retains theirs. Decks last for the entire duration of the brawl and are only removed upon losing, causing the stronger decks to slowly spread.
Notes
[
]
Decks appear to be randomly-generated, but based on the Dalaran Heist bucket system.
Decks can break normal deck-building rules in regards to duplicates.
Decks
[
]
Original
Mercenaries 280 - The almost uncontested top deck in the brawl. Includes a whopping 4 Patches, 2 Ship's Cannon, and 2 Skycap'n Kraggs. This deck creates an insane amount of board presence in the early game, with the help of Southsea Deckhands, N'zoth's First Mates, and Upgrades, with control generated with Fool's Bane and Warpath. Late game includes Argent Commander and Justicar Trueheart. The deck is almost undefeated, with few counters. One thing to note is that the 1x Warpath is the only board clear in the deck.
Dragons 381 - A deck noted to be able to counter Mercenaries 280. Includes Cathedral Gargoyles and Annoy-O-Trons to counter the early Patches. Is able to recover with Dragon Consort + Nozari and Giggling Inventor. There is a lot of Silver Hand and Mech synergy in the deck, including Level Up + Sunkeeper Tarim and Mechwarper. Mimiron's Head is also in the deck, allowing you to actually form V-07-TR-0N to win. A few unorthrodox cards are in the deck, such as Holy Wrath and Righteousness, but they should be able to be used effectively in a matchup with Mercs 280. Overall an average deck, but one that stands out to counter the top in the Brawl.
Rekindled
Strategy
[
]
Much like Encounter at the Crossroads, there's not much you can do besides play on curve to the best of your ability the first time you play a deck. However, subsequent games with the same deck can increase your knowledge of your cards, helping shape your game plan. Likewise, many of the stronger decks will become more frequent as you play, telling you what may be in your opponent's hand.
If you have a deck you don't like, you can get rid of it at any time by conceding.
Gallery
[
]
| | Tavern Brawls |
| --- | --- |
| Constructed | |
| Randomized | |
| Premade | |
| Brawliseum | |
| Cooperative | |
| Single-player | |
| Fireside Brawls | |