Temple Berserker
Regular
Gold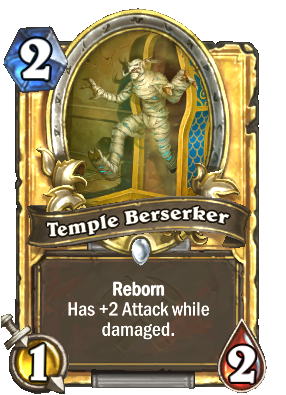 Reborn
Has +2 Attack while damaged.
Flavor text
He's back. He's angry. And he's here to wrap things up.
External links
Temple Berserker is a common neutral minion card, from the Saviors of Uldum set.
How to get
Strategy
A solid, sticky Reborn minion. While the Enrage effect isn't likely to trigger the first time Temple Berserker is alive, it will return as a 3/1. Aggressive Paladin decks using Making Mummies can consider this card. This is a good card for Tempo Warrior, which can reliably trigger the extra damage with cards like Inner Rage and Awaken!. It's also a decent target for Bloodsworn Mercenary, especially if it still has Reborn.
Temple Berserker is weak against classes that can deal 1 damage with their hero power, since the 1/2 can be cleared by a minion and the more dangerous 3/1 can then be easily finished.
Quotes
Gallery
Patch changes