No Man's Sky Update - The Loop
Play Sound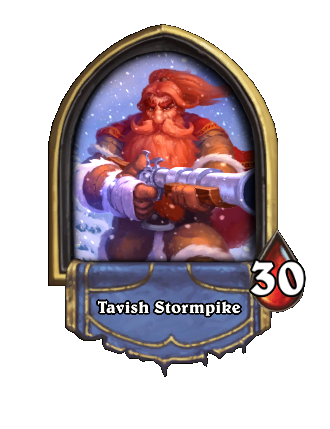 Tavish Stormpike is a hero skin for the hunter class.
How to get
Tavish Stormpike is currently unavailable for obtaining.
Auto-detected sources
Type
Source
Premium
Q.
Quest
Tavish in the Tavern
(Play 1 game of Tavern Brawl.)
Regular
1
Flavor text
When viewed in the Collection, Tavish Stormpike has the following flavor text:
This son of Stormpike seldom stops in his search for spoils.
Sounds
| Type | | Transcript |
| --- | --- | --- |
| Attack | Link▶️ | <attack sound> |
| Death | Link▶️ | <death sound> |
| Emote: Greetings | Link▶️ | How are ya? |
| Emote: GreetingsEmote: Greetings [Mirror] | Link▶️ | Freezin' my beard in this here snow. |
| Start [Mirror] | Link▶️ | First fortune, then glory! |
| Emote: Oops | Link▶️ | Oh dear. |
| Start | Link▶️ | I'll make my own fortune. |
| Emote: Thanks | Link▶️ | Thank ye kindly. |
| Emote: Threaten | Link▶️ | <VO sound> |
| Emote: Well Played | Link▶️ | Well played. |
| Emote: Wow | Link▶️ | Oh, wow! |
| Error: Too many minions | Link▶️ | <VO sound> |
| Error: Hand already full | Link▶️ | My hand is too full. |
| Error: Hero already attacked | Link▶️ | I already attacked. |
| Error: Minion exhausted | Link▶️ | That minion already attacked. |
| Error: Not enough mana | Link▶️ | I need more mana. |
| Error: Need a weapon | Link▶️ | I cannae fight barehanded! |
| Error: Can't play that card | Link▶️ | I cannae play that. |
| Error: Can't target Stealthed minion | Link▶️ | That minion has Stealth. |
| Error: Minion not ready | Link▶️ | Give that minion a turn ta get ready. |
| Error: Not a valid target | Link▶️ | I cannae target that. |
| Error: Must attack Taunt minion | Link▶️ | I must attack the minion with Taunt. |
| Emote: Greetings [Fire Festival] | Link▶️ | Happy Fire Festival! |
| Emote: Greetings [Happy Halloween] | Link▶️ | Happy Hallow's End! |
| Emote: Greetings [Holidays] | Link▶️ | Happy Holidays! |
| Emote: Greetings [Happy New Year] | Link▶️ | Happy New Year! |
| Emote: Greetings [Lunar New Year] | Link▶️ | Happy New Year! |
| Unused: Greetings [Happy Noblegarden] | Link▶️ | Happy Noblegarden, the holiday when everyone searches for loot. |
| Unused: Greetings [Pirate Day] | Link▶️ | Pirate Day! I envy their treasure chests. |
| Unused: Sorry | Link▶️ | Oh, sorry. |
| Thinking | Link▶️ | Hm... |
| Thinking | Link▶️ | Hmm… |
| Thinking | Link▶️ | What have we here? |
| Concede | Link▶️ | Bah! You're not worth the effort. |
| | Link▶️ | <VO sound> |
| Almost out of cards | Link▶️ | Deck's lookin' a little thin. |
| Out of cards | Link▶️ | I'm out of cards! |
| Running out of timeSelection in Choose Your Hero | | <VO sound> |
Patch changes