GTA: The Criminal Enterprises - The Loop
Play Sound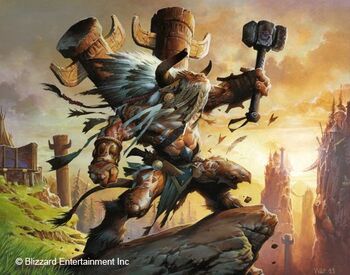 This page lists cards with card art depicting tauren.
Lore
[
]

This section uses content from Wowpedia.
The tauren (shu'halo in their native language of Taur-ahe) are a race of large, bovine humanoids who dwell on the great plains of Central Kalimdor. For countless generations, they were constantly harassed by the violent centaur, who forced the tauren into a nomadic lifestyle in the harsh Barrens. However, during the Third War and the Horde's invasion of Kalimdor, the tauren and the invading Horde became allies, and the Horde aided the tauren in driving off the centaur from the sacred lands of Mulgore. High Chieftain

Cairne Bloodhoof

established the capital city of Thunder Bluff, and to this day the tauren remain one of the most stalwart allies of the Horde, even after Cairne's death and the ascension of his son,

Baine Bloodhoof

.
The tauren are a peaceful and honorable people, that nonetheless are fierce fighters when roused. Hunting and shamanism are held in high regard in their culture, as is their worship of the Earth Mother and respect for the land.
Tauren
[
]
Swipe left or right to see the cards.
Tauren art
[
]
Swipe left or right to see the cards.
Races native to Azeroth

Elves
Titan-forged
Nature
Other

Races alien to Azeroth

Void
Demons
Shadowlands
Other

Undead
Constructs
Miscellaneous