Tarkus
Regular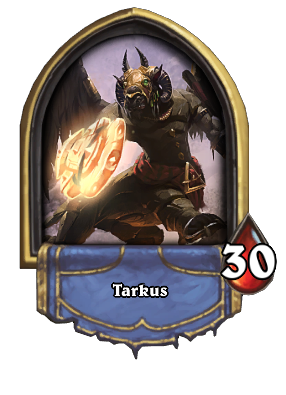 Gold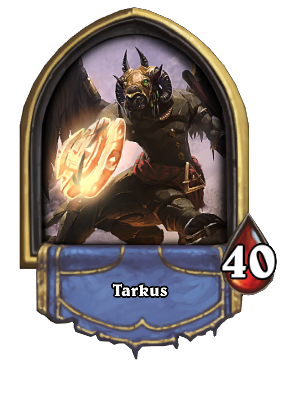 Flavor text
Violence begets violence. Tarkus begets a whole lot.
External links
Tarkus is a boss that can be encountered in Chapter 1 of Tombs of Terror. After completing Chapter 1, this boss encounter will be available in any completed chapter.
Hero Powers
[
]
| Normal | Heroic |
| --- | --- |
| | |
Decks
[
]
The below classes are listed purely for reference, and have no effect on the boss' use of the cards during the battle.
Strategy
[
]

Please add any available information to this section.
Dialogue
[
]
Introduction
Tarkus

The Neferset go down a dark path, but so do you!
You meddle with powers you cannot comprehend. (vs. Reno Jackson)
A noble warrior! This will be a duel for the ages. (vs. Sir Finley)
You who command life itself: You are a worthy foe. (vs. Elise Starseeker)
I am a champion of the Tolvir. Show me your best, dwarf. (vs. Brann Bronzebeard)
Emote Response
Tarkus

I will not negotiate. I serve only Tekahn.
Hero Power
Tarkus

Cutting down the competition.
Expect the unexpected.
I fight fair, in my own way.
Strengths can be weaknesses.
Idle
Tarkus

My people turned to darkness.
Outsiders will only worsen our plight.
Though my body is stone, my heart is not.
Attacks player's hero
Tarkus

Have at thee, feeble one!
Boss cards
Tarkus

Subdue

This one does not deserve the power it wields!

Truesilver Champion

This noble blade suits me fine.

Duel!

A noble duel commences.

Pharaoh's Blessing

Bask in glory, champion.
Player's cards
Tarkus

Pressure Plate

I see you resort to trickery.

Brawl

There is no honor in this barbaric display.

Phalanx Commander

We are not so different, are we?
Death
Tarkus

(yell)
Defeat
Tarkus

Now to see to the fate of my tribe...
Lore
[
]
Tarkus is unique to Hearthstone. He is a tol'vir paladin, who did not exist in World of Warcraft until near the end of Battle for Azeroth, when the Light-worshipping Amathet tol'vir were introduced.
Gallery
[
]
Patch changes
[
]
Tombs of Terror
Heroes
Chapter 1:
The Lost City

| | |
| --- | --- |
| Level 1 | |
| Level 2 | |
| Level 3 | |
| Level 4 | |
| Level 5 | |
| Level 6 | |
| Level 7 | |
| Level 8 | |

Chapter 2:
Scorching Dunes

| | |
| --- | --- |
| Level 1 | |
| Level 2 | |
| Level 3 | |
| Level 4 | |
| Level 5 | |
| Level 6 | |
| Level 7 | |
| Level 8 | |

Chapter 3:
Khartut's Tomb

| | |
| --- | --- |
| Level 1 | |
| Level 2 | |
| Level 3 | |
| Level 4 | |
| Level 5 | |
| Level 6 | |
| Level 7 | |
| Level 8 | |

Chapter 4:
Halls of Origination

| | |
| --- | --- |
| Level 1 | |
| Level 2 | |
| Level 3 | |
| Level 4 | |
| Level 5 | |
| Level 6 | |
| Level 7 | |
| Level 8 | |

Chapter 5:
The Inner Sanctum
Tavern