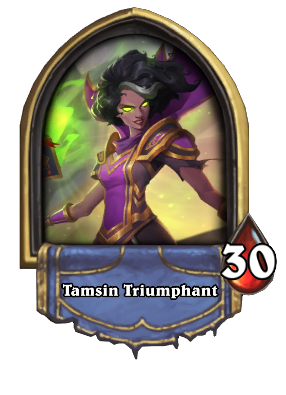 For other representations of Tamsin, see Tamsin Roame (disambiguation).
Tamsin Triumphant is an alternate hero for the

Warlock class.
Background
[
]
This is one of Tamsin's appearances during the United in Stormwind event.
How to get
[
]
Tamsin Triumphant is obtained by purchasing the Tavern Pass and reaching level 100 in the United in Stormwind's Rewards Track.
Functionality
[
]
Once unlocked and selected for use, Tamsin Triumphant replaces Gul'dan whenever the player uses a Warlock deck, as well as:
Comes with own portrait
Has custom emotes
For more information, see Alternate heroes.
Flavor text
[
]
When viewed in the Collection, Tamsin Triumphant has the following flavor text:
There's no better view in Stormwind than from the shoulder of your gigantic dreadlord.
Earnable after purchasing the Tavern Pass.
Sounds
[
]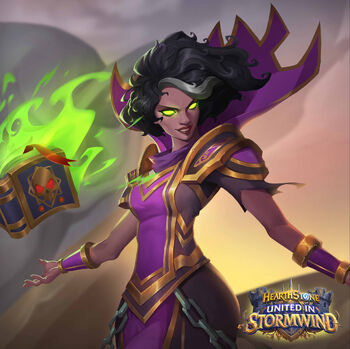 Each hero has their own selection of audio and written emotes that are produced in response to specific events. For more information, see Emote.
Most of Tamsin Triumphant's sounds are the same as Scholomance Tamsin. Unique, different ones are noted as Unique in References section.
| Type | Transcript |
| --- | --- |
| Trigger: Hellfire | Link▶️Burn them all. |
| Trigger Mortal Coil | Link▶️Shuffle off. |
| Trigger: Completing The Demon Seed | Link▶️The Demon Seed… |
| Trigger: Twisting Nether | Link▶️Goodbye forever! |
| Attack [1] | Link▶️Must I dirty my hands?[1] |
| Death [1] | Link▶️<Death> |
| Emote: Greetings | Link▶️Well, well.[1] |
| Emote: Well Played | Link▶️This battle is over.[1] |
| Emote: Oops | Link▶️Such failures.[1] |
| Emote: Threaten | Link▶️I will burn away your mind![1] |
| Emote: Thanks | Link▶️You expect me to thank you?[1] |
| Unused: Sorry | Link▶️Oh, I'm so sorry. |
| Concede | Link▶️You haven't heard the last of me. |
| Start | Link▶️Stormwind will tremble before Tamsin Roame.[1] |
| Running out of time | Link▶️I must hasten. |
| Thinking [1] | Link▶️I'm not getting any younger. |
| Thinking [2] | Link▶️Hmm… |
| Thinking [3] | Link▶️What is taking so long? |
| Almost out of cards | Link▶️I'm almost out of cards. |
| Out of cards | Link▶️Who stole all my cards? |
| Error: Need a weapon | Link▶️I need a weapon. |
| Error: Not enough mana | Link▶️I need more mana. |
| Error: Minion exhausted | Link▶️That minion already attacked. |
| Error: Hero already attacked | Link▶️I already attacked. |
| Error: Minion not ready | Link▶️Give that minion a turn to get ready. |
| Error: Hand already full | Link▶️My hand is full. |
| Error: Can't target Stealthed minion | Link▶️I can't target a minion with Stealth. |
| Error: Can't play that card | Link▶️I can't play that. |
| Error: Not a valid target | Link▶️I can't target that! |
| Error: Must attack Taunt minion | Link▶️Get that Taunt minion out of the way. |
| Error: Generic | Link▶️Impossible. |
| Selection in Choose Your Hero | Link▶️With this power in hand, I will burn Stormwind to the ground![1] |
| Emote: Greetings [Lunar New Year] | Link▶️Happy new year! |
| Start [Mirror] | Link▶️Anetheron walks, and I triumph![1] |
| Emote: Greetings [Holidays] | Link▶️Happy holidays. Did you get me a present? |
| Emote: Wow | Link▶️What a display![1] |
| Emote: Greetings [Happy New Year] | Link▶️Happy new year! |
| Emote: Greetings [Fire Festival] | Link▶️Happy Fire Festival! |
| Unused: Greetings [Pirate Day] | Link▶️Steal, pillage, profit? What's not to like about pirates? |
| Emote: Greetings [Happy Halloween] | Link▶️Happy Hallow's End. |
| Unused: Greetings [Happy Noblegarden] | Link▶️Happy Noblegarden. As a child, I released Cariel's pet rabbit into the wild. |
| Emote: Greetings [Mirror] | Link▶️If it isn't a brilliant opponent.[1] |
| Error: Too many minions | Link▶️My board is full. |
Patch changes
[
]
References
[
]