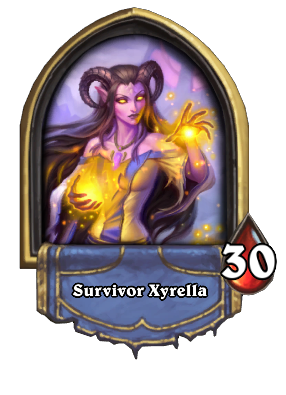 For other representations of Xyrella, see Xyrella (disambiguation).
Survivor Xyrella is an alternate hero for the

Priest class.
Background
[
]
This is one of Xyrella's appearances after surviving the crash of the malfunctioned Exodar.
How to get
[
]
Survivor Xyrella is unavailable to new players. It's unknown if she will become available again.
Previous availability
[
]
Survivor Xyrella was obtained by purchasing the Tavern Pass and reaching level 15 in the Forged in the Barrens' Rewards Track.
Functionality
[
]
Once unlocked and selected for use, Survivor Xyrella replaces Anduin Wrynn whenever the player uses a Priest deck, as well as:
Comes with own portrait
Has custom emotes
For more information, see Alternate heroes.
Flavor text
[
]
When viewed in the Collection, Survivor Xyrella has the following flavor text:
Even after the darkest disaster, the light of hope remains! Usually in the form of a healer.
Earnable after purchasing the Tavern Pass.
Sounds
[
]
Each hero has their own selection of audio and written emotes that are produced in response to specific events. For more information, see Emote.
Patch changes
[
]
References
[
]