Roblox: DeepWoken - The Loop
Play Sound
Start of Game
Does something before the first turn.
Start of Game is an ability which activates at the start of the game.
Cards
[
]
Name

/ Desc

Rarity
Type
Subtype
Class
Cost
Atk
HP
Description
Nozdormu the Eternal
Legendary
Minion
Dragon
Any
7
8
8
Start of Game: If this is in BOTH players' decks, turns are only 15 seconds long.
C'Thun, the Shattered
Legendary
Minion
General
Any
10
6
6
Start of Game: Break into pieces. Battlecry: Deal 30 damage randomly split among all enemies.
Showing all 2 cards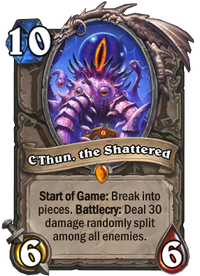 Wild format
This section concerns content exclusive to Wild format.
Name

/ Desc

Rarity
Type
Subtype
Class
Cost
Atk
HP
Description
Prince Malchezaar
Legendary
Minion
General
Any
5
5
6
Start of Game:\nAdd 5 extra Legendary minions to your deck.
Genn Greymane
Legendary
Minion
General
Any
6
6
5
Start of Game: If your deck has only even-Cost cards, your starting Hero Power costs (1).
Baku the Mooneater
Legendary
Minion
Beast
Any
9
7
8
Start of Game: If your deck has only odd-Cost cards, upgrade your Hero Power.
Showing all 3 cards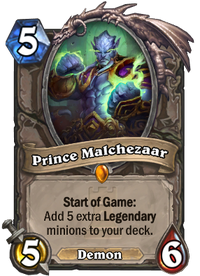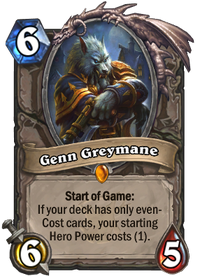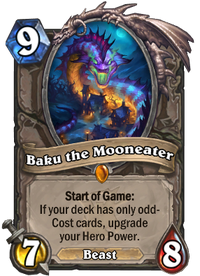 Trivia
[
]
Patch changes
[
]