No Man's Sky Update - The Loop
Play Sound
Squeamlish
54551 • DALA_Squeamlish
Regular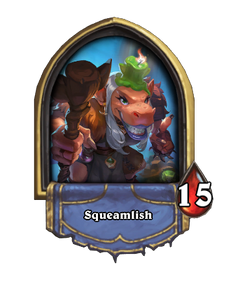 Dimensions:
Full
•
330 x 410px
Golden
Card image missing. Click here to upload.
Full tags
CLASS=2 HEALTH=15 CARDTYPE=3 HERO_POWER=1123 HIDE_WATERMARK=1
Wiki tags
None
External links

It is a part of limited content and does not appear in any other
game modes
.
For the Tombs of Terror boss, see

Squeamlish

.
Squeamlish is a hero that the player can pick in The Dalaran Heist. She represents the Druid class.
Hero Powers
[
]
| Available at start | Unlock: Play 15 Choose One Cards | Unlock: Gain Attack 25 times |
| --- | --- | --- |
| | | |
Starting cards
[
]
Card Bundles
[
]
Strategy
[
]

Please add any available information to this section.
Emotes
[
]
Type
Emote
Selected
Me take many forms!
Opening remark
Me Squeamlish, Druid of the Rat!
Thanks
Me thank you!
Well Played
You play well!
Greetings
Me greet you!
Wow
Ohhhh, wow!
Oops
Candle running low on that one.
Threaten
I show you why me am true Druid!
Sorry
Ohh.. Sorry!
Concede
Is time to give up!
Thinking [1]
Hm... What form me use...
Thinking [2]
How to beat you...
Thinking [3]
What would Master Rat do?
Almost out of time
Candle is burning out
Almost out of cards
Oh no! Cards are running out!
Out of cards
No cards left… no more friends.
Error: Too many minions
Got no room for minions!
Error: Generic
It no work!
Error: Hand already full
Me hand is full!
Error: Hero already attacked
I already attacked!
Error: Minion not ready
That one needs a turn to get ready!
Error: Minion exhausted
This minion already attacked!
Error: Not enough mana
No have Mana!
Error: Need a weapon
Need weapon!
Error: Can't play that card
No can play.
Error: Can't target stealthed minions
That minion's in the shadows!
Error: Not a valid target
Need! Target!
Error: Must attack taunt minion
Can't do! They taunt!

Moonfire

is played
Me form of, hedgehog...

Ferocious Howl

is played
Me form of, Turtle!

Swipe

is played
Me form of, Rat!

Poison Seeds

is played
Me plant new forest! Inside of you!

Tree of Life

is played
Me form of, shrub!

Golden Candle

is played
Okay... That a REALLY nice candle...
Sow the Seeds is played
Grow little ones, grow!
Lore
[
]
Squeamlish is unique to Hearthstone. She is a kobold Druid who bears a hedgehog form and a turtle form.
Gallery
[
]
Patch changes
[
]
The Dalaran Heist
Heroes
Chapter 1: Dalaran Bank

| | |
| --- | --- |
| Level 1 | |
| Level 2 | |
| Level 3 | |
| Level 4 | |
| Level 5 | |
| Level 6 | |
| Level 7 | |
| Level 8 | |

Chapter 2: The Violet Hold

| | |
| --- | --- |
| Level 1 | |
| Level 2 | |
| Level 3 | |
| Level 4 | |
| Level 5 | |
| Level 6 | |
| Level 7 | |
| Level 8 | |

Chapter 3: Streets of Dalaran

| | |
| --- | --- |
| Level 1 | |
| Level 2 | |
| Level 3 | |
| Level 4 | |
| Level 5 | |
| Level 6 | |
| Level 7 | |
| Level 8 | |

Chapter 4: The Underbelly

| | |
| --- | --- |
| Level 1 | |
| Level 2 | |
| Level 3 | |
| Level 4 | |
| Level 5 | |
| Level 6 | |
| Level 7 | |
| Level 8 | |

Chapter 5: Kirin Tor Citadel

| | |
| --- | --- |
| Level 1 | |
| Level 2 | |
| Level 3 | |
| Level 4 | |
| Level 5 | |
| Level 6 | |
| Level 7 | |
| Level 8 | |
| Level 9 | |
| Level 10 | |
| Level 11 | |
| Level 12 | |

Tavern