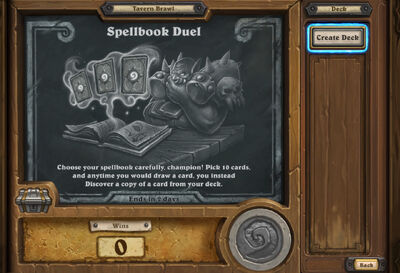 "Choose your spellbook carefully, champion! Pick 10 cards, and anytime you would draw a card, you instead Discover a copy of a card from your deck."
Spellbook Duel is a Tavern Brawl. It debuted on January 18, 2017.
History
[
]
| Tavern Brawl | Start | End |
| --- | --- | --- |
| 84 | January 18, 2017 | January 23, 2017 |
| 122 | October 11, 2017 | October 16, 2017 |
Overview
[
]
This Tavern Brawl sees players doing battle with custom decks composed of 10 cards chosen by the player, with only 1 copy of each card allowed. At the start of the game, both players mulligan as normal, but at the start of each turn instead of drawing a card, the player will instead Discover a card from three options matching cards currently in their deck. This Discover does not remove the card from the player's deck, but instead places a copy into their hand.
Card draw effects do not operate normally during this Brawl: instead of drawing a card from the deck, the player has a copy of Peruse added to their hand. (This is technically considered card draw but does not come from the deck.) This 1 mana spell can then be used to Discover a card in the same way that players gain new cards at the start of each turn. Put into hand effects similarly generate copies of Peruse.
The combination of these special rules means the player is unable to draw cards normally, but the contents of the deck can still be altered through put into battlefield, shuffle into deck, and replace effects, as well as unique cards like Fel Reaver and Tracking. Because the deck acts as a source for each turn's Discover effect, altering the contents of the player's deck will affect which options the player is able to Discover.
Special cards
[
]
Notes
[
]
Specific cards
Known bugs
[
]
Playing Gnomish Experimenter will sometimes cause a a glitch resulting in a strange interaction between the Discover mechanic and the Experimenter's Battlecry, replacing a minion before the Discover screen pops up, and the Chicken card will be offered instead of the original minion that it replaced.[3]
Strategy
[
]
References
[
]
↑ 2.0 2.1 2.2 Tested by User:Taohinton, 2017-01-20, multiple times. Used Fel Reaver to reduce my deck to 1 card, then used Ancient Shade to increase the number to 2, then 3, then 4 cards, testing each time. When only 1 card remained in my deck, the Discover effect ceased to take place, or to provide me with any options. This was true at the start of several turns following reaching 1 card, and also when using Peruse; the card had no effect.
↑ tabuhli (22-01-2017). "Bizarre Gnomish Experimenter Interaction. 
| | Tavern Brawls |
| --- | --- |
| Constructed | |
| Randomized | |
| Premade | |
| Brawliseum | |
| Cooperative | |
| Single-player | |
| Fireside Brawls | |