Snakeflinger Scalesnout
Regular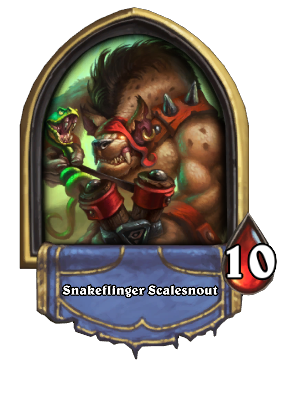 Gold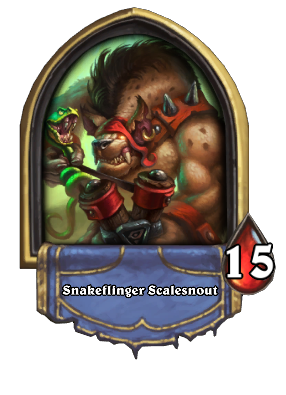 Flavor text
Snakes with pointed snouts are venomous. And the best ammo.
External links
Snakeflinger Scalesnout is a boss that can be encountered initially in Chapter 3 of Tombs of Terror. After completing Chapter 3, this boss encounter will be available in any completed chapter.
Hero Powers
[
]
Normal
Heroic
Summoned minions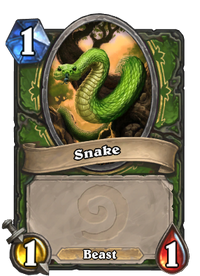 Decks
[
]
The below classes are listed purely for reference, and have no effect on the boss' use of the cards during the battle.
Strategy
[
]

Please add any available information to this section.
Dialogue
[
]
Introduction
Snakeflinger Scalesnout

They're here!
Oooh. Big bad hunter. (vs. Brann Bronzebeard)
Do I really smell that bad?
Put the snake down and your paws in the air, sir!
Emote Response
Snakeflinger Scalesnout

Grrr... quit the yapping!
Hero Power
Snakeflinger Scalesnout

Go, bitey snakey! Heheh.
Snake happy to bite you!
Snake make good ammos!
Snakeshot!
Idle
Snakeflinger Scalesnout

Always like snakes. Like shooting them at you more.
This one named… Fang. This one… Tooth.
What feed snakes besides explorers?
Boss cards
Snakeflinger Scalesnout

Snake Trap triggers

These ones not want to be slingshot ammo.
Player's cards
Snakeflinger Scalesnout

Snake Trap

You got snakes too! But you not shooting them?

Hyena Alpha

These like small gnolls. Not smart. But good at bites.

Marked Shot

Slingshot shoots rocks too!

Giant Anaconda / Baku the Mooneater

That is REALLY big snake! What kinda slingshot you have?!
Death
Snakeflinger Scalesnout

(yell)
Defeat
Snakeflinger Scalesnout

Heeheehee! Gonna get a big bonus!
Lore
[
]
Snakeflinger Scalesnout is unique to Hearthstone. He is a member of League of E.V.I.L.
Gallery
[
]
Patch changes
[
]
Tombs of Terror
Heroes
Chapter 1:
The Lost City

| | |
| --- | --- |
| Level 1 | |
| Level 2 | |
| Level 3 | |
| Level 4 | |
| Level 5 | |
| Level 6 | |
| Level 7 | |
| Level 8 | |

Chapter 2:
Scorching Dunes

| | |
| --- | --- |
| Level 1 | |
| Level 2 | |
| Level 3 | |
| Level 4 | |
| Level 5 | |
| Level 6 | |
| Level 7 | |
| Level 8 | |

Chapter 3:
Khartut's Tomb

| | |
| --- | --- |
| Level 1 | |
| Level 2 | |
| Level 3 | |
| Level 4 | |
| Level 5 | |
| Level 6 | |
| Level 7 | |
| Level 8 | |

Chapter 4:
Halls of Origination

| | |
| --- | --- |
| Level 1 | |
| Level 2 | |
| Level 3 | |
| Level 4 | |
| Level 5 | |
| Level 6 | |
| Level 7 | |
| Level 8 | |

Chapter 5:
The Inner Sanctum
Tavern