Sinkhole
Regular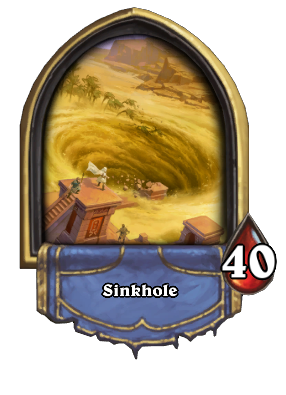 Gold
Flavor text
The best way to avoid a sinkhole is to - oh, too late.
External links
Sinkhole is a boss that can be encountered initially in Chapter 1 of Tombs of Terror. After completing Chapter 1, this boss encounter will be available in any completed chapter.
Hero Power
[
]
Normal
Heroic

Auto-cast
Special cards
[
]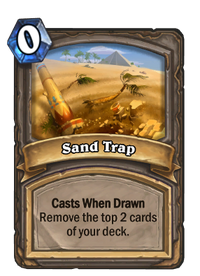 Decks
[
]
The below classes are listed purely for reference, and have no effect on the boss' use of the cards during the battle.
These decks correspond only to level 6. If this boss is encountered on level 5, his deck will be missing 5 random cards from listed below.
Strategy
[
]

Please add any available information to this section.
Dialogue
[
]
Introduction
Sinkhole

<Whirling sands> <Crumbling earth>

Reno Jackson

Whatever you do, save the treasure from sinking!

Sir Finley

"Sir Finley of the Sands" was not to be taken literally!

Elise Starseeker

Uldum's natural threats are almost as dangerous as the supernatural ones.

Brann Bronzebeard

Grab a rope, everything's sinkin'!
Emote Response
Sinkhole

<Sand shifting>
Death
Sinkhole

<Collapsing>
Defeat
Sinkhole

<Whirling, consuming>
Lore
[
]
Sinkhole is unique to Hearthstone.
Gallery
[
]
Patch changes
[
]
Tombs of Terror
Heroes
Chapter 1:
The Lost City

| | |
| --- | --- |
| Level 1 | |
| Level 2 | |
| Level 3 | |
| Level 4 | |
| Level 5 | |
| Level 6 | |
| Level 7 | |
| Level 8 | |

Chapter 2:
Scorching Dunes

| | |
| --- | --- |
| Level 1 | |
| Level 2 | |
| Level 3 | |
| Level 4 | |
| Level 5 | |
| Level 6 | |
| Level 7 | |
| Level 8 | |

Chapter 3:
Khartut's Tomb

| | |
| --- | --- |
| Level 1 | |
| Level 2 | |
| Level 3 | |
| Level 4 | |
| Level 5 | |
| Level 6 | |
| Level 7 | |
| Level 8 | |

Chapter 4:
Halls of Origination

| | |
| --- | --- |
| Level 1 | |
| Level 2 | |
| Level 3 | |
| Level 4 | |
| Level 5 | |
| Level 6 | |
| Level 7 | |
| Level 8 | |

Chapter 5:
The Inner Sanctum
Tavern