Siamat
Regular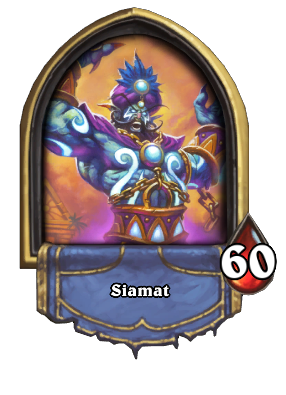 Flavor text
The South Winds (usually) bring exactly what Siamat wanted.
External links
For the minion card of the same name, see Siamat.
Siamat is a boss that can be encountered intially in Chapter 1 of Tombs of Terror. After completing Chapter 1, this boss encounter will be available in any chapter.
Hero Power
[
]
| Normal | Heroic |
| --- | --- |
| | |
Special cards
[
]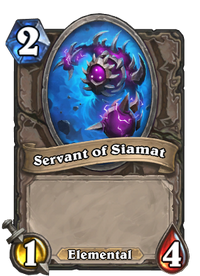 Decks
[
]
The below classes are listed purely for reference, and have no effect on the boss' use of the cards during the battle.
Strategy
[
]

Please add any available information to this section.
Dialogue
[
]
Introduction
Siamat

I. AM. UNLEASHED!
vs. Reno Jackson

Reno Jackson

Oh oh oh! How many wishes do I get?!

Siamat

You may choose the manner of your destruction.
Emote Response
Siamat

Last time I took a breath, I was betrayed. Leave me alone!
Hero Power
Siamat

Aid me, servants.
Lend me your power!
Serve ME!
You still aid me!
Idle
Siamat

And what I want is a vacation. Somewhere without sand!
From now on, Siamat gets what Siamat wants!
Never, EVER helping a mortal again!
I hear Northrend is nice this time of year...
Boss cards
Siamat

Lightning spell

The winds bring... thunder!

Polymorph

I wished for destruction... but a sheep will do.

Benevolent Djinn heals

Oh, NOW you show up to heal me!
Player's cards
Siamat

Zephrys's Lamp

I will not grant you ANY wishes, mortal!

Zephrys the Great

Zephrys! You continue to vex me, even now!

Siamat

Wh- how- who are you?!
Death
Siamat

The sky... Beckons...
Defeat
Siamat

Nothing more than dust in the wind.
Lore
[
]

This section uses content from Wowpedia.
Siamat, Lord of the South Wind, is the final boss in the Lost City of the Tol'vir.
He is a member of the Conclave of Wind. He was sent by Al'Akir at the behest of Deathwing to the Neferset tol'vir to cure them of the Curse of Flesh in exchange for their loyalty. After becoming exhausted from converting the population of Neferset into their stoney bodies, the Neferset turned on him, trapping him within the tower at the center of their lost city. After slaying the leaders of the city, adventurers accidently freed Siamat. He was then defeated within the crumbled ruins of the tower that imprisoned him.
Gallery
[
]
Patch changes
[
]
Tombs of Terror
Heroes
Chapter 1:
The Lost City

| | |
| --- | --- |
| Level 1 | |
| Level 2 | |
| Level 3 | |
| Level 4 | |
| Level 5 | |
| Level 6 | |
| Level 7 | |
| Level 8 | |

Chapter 2:
Scorching Dunes

| | |
| --- | --- |
| Level 1 | |
| Level 2 | |
| Level 3 | |
| Level 4 | |
| Level 5 | |
| Level 6 | |
| Level 7 | |
| Level 8 | |

Chapter 3:
Khartut's Tomb

| | |
| --- | --- |
| Level 1 | |
| Level 2 | |
| Level 3 | |
| Level 4 | |
| Level 5 | |
| Level 6 | |
| Level 7 | |
| Level 8 | |

Chapter 4:
Halls of Origination

| | |
| --- | --- |
| Level 1 | |
| Level 2 | |
| Level 3 | |
| Level 4 | |
| Level 5 | |
| Level 6 | |
| Level 7 | |
| Level 8 | |

Chapter 5:
The Inner Sanctum
Tavern