Roblox: DeepWoken - The Loop
Play Sound
This page includes cards with card art depicting shivarra.
For other demons, see Demon art.
Lore
[
]

This section uses content from Wowpedia.
Devout and exceedingly charismatic, these priestesses live only to evangelize the power of Sargeras' dread vision. They are the driving heart of the Burning Crusade and are thought to be three times as fanatical as the other demons. The most powerful shivarra are the Coven of Shivarra.
Cards
[
]
Shivarra
Name

/ Desc

Rarity
Type
Subtype
Class
Cost
Atk
HP
Description
Nightshade Matron
Common
Minion
Demon
Warlock
4
5
5
Rush
Battlecry: Discard your highest Cost card.
Bladed Lady
Rare
Minion
Demon
Demon Hunter
6
6
6
Rush
Costs (1) if your hero has 6 or more Attack.
Scavenging Shivarra
Common
Minion
Demon
Any
6
6
3
Battlecry: Deal 6 damage randomly split among all other minions.
Priestess of Fury
Rare
Minion
Demon
Demon Hunter
7
6
5
At the end of your turn, deal 6 damage randomly split among all enemies.
Showing all 4 cards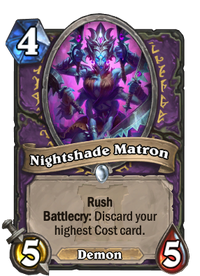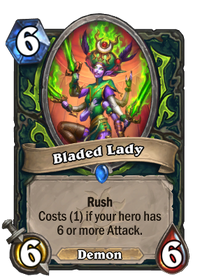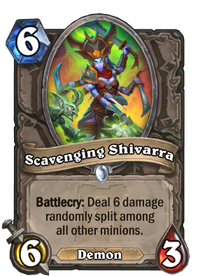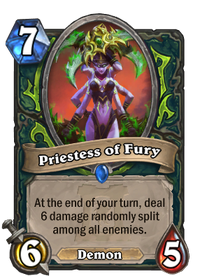 Shivarra art
Name

/ Desc

Rarity
Type
Subtype
Class
Cost
Atk
HP
Description
Bladestorm
Epic
Spell
General
Warrior
3
Deal 1 damage to all minions. Repeat until one dies.
Showing the only card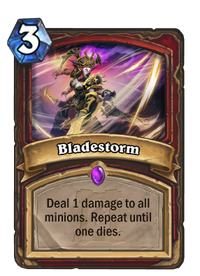 Card art
Races Native to Azeroth

Elves

Titan-forged

Nature

Other

Races Alien to Azeroth

Void

Demons

Other

Undead
Miscellaneous