No Man's Sky Update - The Loop
Play Sound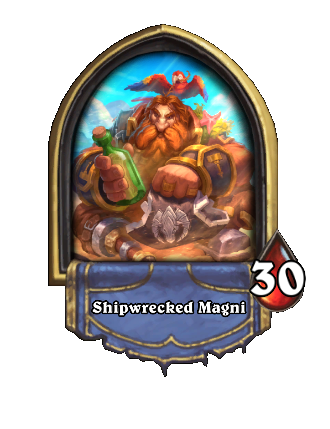 Shipwrecked Magni is a hero skin for the warrior class.
How to get
Shipwrecked Magni is currently unavailable for obtaining.
Auto-detected sources

| Type | Source | Premium | Q. |
| --- | --- | --- | --- |
| Paid Track | Voyage to the Sunken City Paid Track, level 5 | Regular | 1 |
Flavor text
When viewed in the Collection, Shipwrecked Magni has the following flavor text:
Brave expeditions to new lands are all well and good until your ship is smashed to bits and your best friend is a grumpy parrot. Earnable after purchasing the Voyage to the Sunken City Tavern Pass.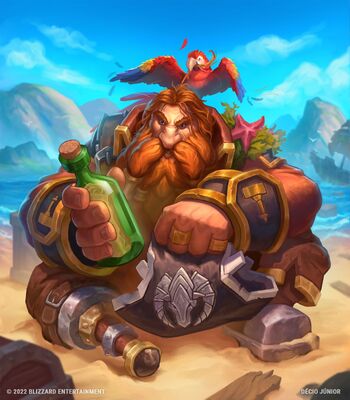 Sounds
| Type | | Transcript |
| --- | --- | --- |
| Death | Link▶️ | <death sound> |
| Concede | Link▶️ | You got me. |
| Error: Too many minions | Link▶️ | I have too many minions. |
| Error: Generic | Link▶️ | I cannot do that. |
| Error: Hand already full | Link▶️ | My hand is full! |
| Error: Hero already attacked | Link▶️ | I already attacked. |
| Error: Minion not ready | Link▶️ | Give that minion a turn to get ready. |
| Error: Minion exhausted | Link▶️ | That minion already attacked. |
| Error: Not enough mana | Link▶️ | I don't have enough Mana. |
| Error: Need a weapon | Link▶️ | I need a weapon. |
| Error: Can't target Stealthed minion | Link▶️ | I can't play that. |
| Error: Can't play that card | Link▶️ | I can't target Stealthed minions. |
| Error: Not a valid target | Link▶️ | That's not a valid target. |
| Error: Must attack Taunt minion | Link▶️ | I must attack the minion with Taunt. |
| Emote: Greetings [Lunar New Year] | Link▶️ | Happy New Year! |
| Emote: Greetings [Fire Festival] | Link▶️ | Happy Midsummer Fire Festival! |
| Emote: Greetings [Happy Halloween] | Link▶️ | Happy Hallow's End, friend. |
| Almost out of cards | Link▶️ | I'm almost out of cards. |
| Unused: Greetings [Happy Noblegarden] | Link▶️ | Happy Noblegarden! |
| Out of cards | Link▶️ | I'm out of cards! |
| Unused: Greetings [Pirate Day] | Link▶️ | Yarrr! I be the king of the high seas! |
| Unused: Sorry | Link▶️ | I'm so sorry friend. |
| | Link▶️ | Hmm... |
| | Link▶️ | Maybe... No, no, no, no... |
| | Link▶️ | So many choices... |
| Running out of time | Link▶️ | I gotta move! |
| Emote: Greetings [Holidays] | Link▶️ | Happy Feast of Winter Veil! |
| Emote: Greetings | Link▶️ | Hey there! Hey! |
| Emote: GreetingsEmote: Greetings [Mirror] | Link▶️ | Ya really missed greeting people, hm? |
| Start [Mirror] | Link▶️ | You said that last time! |
| Emote: Oops | Link▶️ | How'd that happen? |
| Start | Link▶️ | I won't be left behind! |
| Emote: Thanks | Link▶️ | Thanks for that. |
| Emote: Threaten | Link▶️ | I've cracked coconuts tougher than you. |
| Emote: Well Played | Link▶️ | Seems like you can get yourself out of any predicament! |
| Emote: Wow | Link▶️ | By my last rations! |
| Emote: Greetings [Happy New Year]Selection in Choose Your Hero | | <VO sound> |
Patch changes