Sharky McFin
Regular
Gold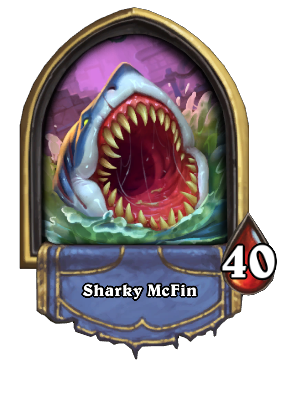 Flavor text
This McShark feeds on the McWeak.
External links
Sharky McFin is a boss that can be encountered in Chapter 4 of The Dalaran Heist adventure.
Hero Power
[
]
| Normal | Heroic |
| --- | --- |
| | |
Decks
[
]
The below classes are listed purely for reference, and have no effect on the boss' use of the cards during the battle.
Strategy
[
]
With plenty of low mana minions, Sharky relies on damage your minions so he can destroy them with your hero power. It is best to keep your strongest minions for the late game and survive with smaller minions and spell in order to render his hero power useless.
Dialogue
[
]
Introduction
Sharky McFin

<Rog>
Emote Response
Sharky McFin

<ROAA>
Death
Sharky McFin

(roar)
Defeat
Sharky McFin

<Roar>
Lore
[
]
Sharky McFin is unique to Hearthstone.
Gallery
[
]
Patch changes
[
]
The Dalaran Heist
Heroes
Chapter 1: Dalaran Bank

| | |
| --- | --- |
| Level 1 | |
| Level 2 | |
| Level 3 | |
| Level 4 | |
| Level 5 | |
| Level 6 | |
| Level 7 | |
| Level 8 | |

Chapter 2: The Violet Hold

| | |
| --- | --- |
| Level 1 | |
| Level 2 | |
| Level 3 | |
| Level 4 | |
| Level 5 | |
| Level 6 | |
| Level 7 | |
| Level 8 | |

Chapter 3: Streets of Dalaran

| | |
| --- | --- |
| Level 1 | |
| Level 2 | |
| Level 3 | |
| Level 4 | |
| Level 5 | |
| Level 6 | |
| Level 7 | |
| Level 8 | |

Chapter 4: The Underbelly

| | |
| --- | --- |
| Level 1 | |
| Level 2 | |
| Level 3 | |
| Level 4 | |
| Level 5 | |
| Level 6 | |
| Level 7 | |
| Level 8 | |

Chapter 5: Kirin Tor Citadel

| | |
| --- | --- |
| Level 1 | |
| Level 2 | |
| Level 3 | |
| Level 4 | |
| Level 5 | |
| Level 6 | |
| Level 7 | |
| Level 8 | |
| Level 9 | |
| Level 10 | |
| Level 11 | |
| Level 12 | |

Tavern