Shardseeker Xyrella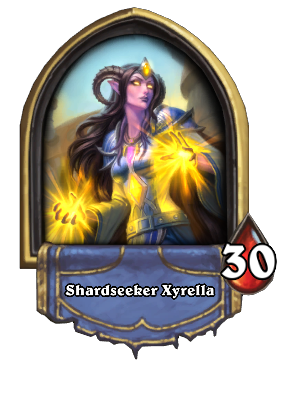 For other representations of Xyrella, see Xyrella (disambiguation).
Shardseeker Xyrella is an alternate hero for the

Priest class.
This is one of Xyrella's appearances after following the call of the fractured naaru Mi'da, currently seeking the shards to restore the power of the naaru.
Shardseeker Xyrella is obtained by purchasing the Tavern Pass and reaching level 80 in the Forged in the Barrens' Rewards Track.
Once unlocked and selected for use, Shardseeker Xyrella replaces Anduin Wrynn whenever playing with a Priest deck, as well as:
Comes with her own portrait
Has custom emotes
For more information, see Alternate heroes.
When viewed in the Collection, Shardseeker Xyrella has the following flavor text:
Gathering shards of the Naaru has proved to be a fetch quest with purpose for Xyrella.
Earnable after purchasing the Tavern Pass.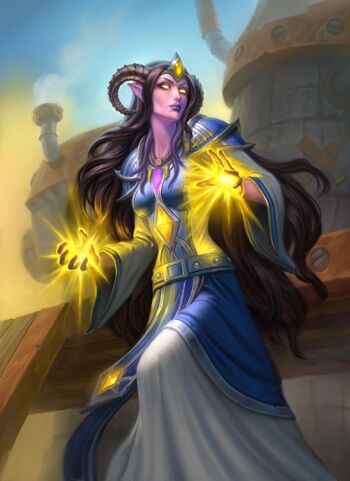 Each hero has their own selection of audio and written emotes that are produced in response to specific events. For more information, see Emote.
Most of Shardseeker Xyrella's sounds are the same as Survivor Xyrella. Unique, different ones are noted as Unique in References section.
| Type | Transcript |
| --- | --- |
| Trigger: Circle of Healing | Link▶️Stand beside me! |
| Trigger: Condemn (Rank 1) | Link▶️Back, all of you! |
| Trigger: Condemn (Rank 2) | Link▶️Stay back! |
| Trigger: Condemn (Rank 3) | Link▶️I condemn you all! |
| Trigger: Holy Nova | Link▶️None can hide from the Light! |
| Trigger: Idol of Y'Shaarj | Link▶️This world holds many terrors. |
| Trigger: Mind Control | Link▶️I need to borrow this. |
| Trigger: Power Word: Shield | Link▶️Light be with you! |
| Trigger: Shadow Word: Death | Link▶️Begone! |
| Trigger: Shadow Word: Pain | Link▶️That one was a nuisance. |
| Trigger: Silence | Link▶️Shhhh…. |
| Attack [1] | Link▶️Light guide me![1] |
| Death [1] | Link▶️<Death> |
| Emote: Greetings | Link▶️Archenon poros![1] |
| Emote: Well Played | Link▶️I am… impressed.[1] |
| Emote: Oops | Link▶️We must rise up from our errors![1] |
| Emote: Threaten | Link▶️You face my wrath![1] |
| Emote: Thanks | Link▶️My thanks.[1] |
| Unused: Sorry | Link▶️Ah, yes…. Sorry. |
| Concede | Link▶️This battle... is yours... |
| Start | Link▶️I will light the way.[1] |
| Running out of time | Link▶️No time …! |
| Thinking [1] | Link▶️Hmmm… |
| Thinking [2] | Link▶️Guide my hand… |
| Thinking [3] | Link▶️Yes, but how…? |
| Almost out of cards | Link▶️I grow short of cards. |
| Out of cards | Link▶️I am out of cards! |
| Error: Need a weapon | Link▶️I need a weapon. |
| Error: Not enough mana | Link▶️I need more mana. |
| Error: Minion exhausted | Link▶️That minion already attacked. |
| Error: Hero already attacked | Link▶️I already attacked. |
| Error: Minion not ready | Link▶️That minion is not ready. |
| Error: Hand already full | Link▶️My hand is full! |
| Error: Too many minions | Link▶️There is no room. |
| Error: Can't target Stealthed minion | Link▶️I cannot see that one! |
| Error: Can't play that card | Link▶️I cannot play that. |
| Error: Not a valid target | Link▶️I need a target. |
| Error: Must attack Taunt minion | Link▶️I must attack the minion with taunt. |
| Error: Generic | Link▶️It cannot be done. |
| Selection in Choose Your Hero | Link▶️The Light will guide our steps![1] |
| Emote: Greetings [Lunar New Year] | Link▶️Happy New Year! |
| Start [Mirror] | Link▶️And I will end the darkness.[1] |
| Emote: Greetings [Holidays] | Link▶️Happy holidays! |
| Emote: Wow | Link▶️Momentous![1] |
| Emote: Greetings [Happy New Year] | Link▶️Happy New Year! |
| Unused: Greetings [Fire Festival] | Link▶️Let us celebrate the purity of flame! |
| Unused: Greetings [Pirate Day] | Link▶️I do not understand this "Pirate Day." I have missed the boat. |
| Emote: Greetings [Happy Halloween] | Link▶️Hallow's End? A strange and dark custom! |
| Unused: Greetings [Happy Noblegarden] | Link▶️We chase rabbits, yes? And… eggs? So confused. |
| Emote: Greetings [Mirror] | Link▶️Yes, to you and family.[1] |
| UNKNOWN | Link▶️<Silence sound> |
| Upcoming | I am sorry that it comes to this, friend. |
| Start [Kurtrus] | Link▶️Do not let your anger define you, Kurtrus. |
| Upcoming | I see you still cut right to the point. |
| Upcoming | The search continues, Tavish. |