Shapeshift
Regular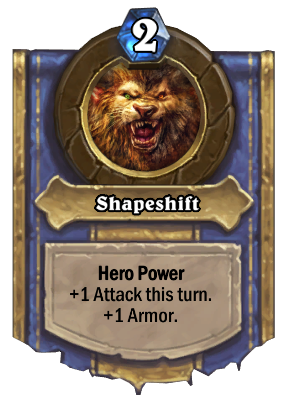 Gold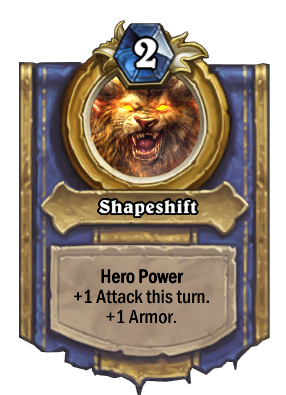 Hero Power
+1 Attack this turn. +1 Armor.
External links
Shapeshift is the druid's basic Hero Power.
Other versions
[
]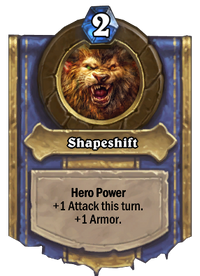 Notes
[
]
Strategy
[
]
This Hero Power offers a combination of offensive and defensive benefits.
Shapeshift grants heroes a temporary point of Attack, allowing them to directly attack enemies, essentially granting them a weak weapon until the end of the turn. This is most useful for finishing off enemy minions, trading Health (or Armor) for board control, often in combination with friendly minions or spells. It can also be used to simply chip away at enemy heroes. Shapeshift can also supplement the power of other Attack power sources to increase killing power for the single attack allowed that turn. This Attack power is usually from spells but can also include equipped weapons, since Shapeshift is not itself a weapon - although it is extremely rare for a druid to have one.
Since Armor stays and can stack, this Hero Power also acts as a 1 point heal (or more accurately a pre-emptive shield) for your hero. This can slowly build up protection from future attacks, or absorb some of the damage taken when hitting a minion.
Against other Hero Powers
[
]
Shapeshift is a hybrid of offense and defense, and excels at neither; it also exposes druids to damage by forcing them to attack minions directly. However, it is one of the three "deal one damage" powers, enabling some card-efficient board control and discouraging opponents from playing 1-Health minions.
Hero Powers can be compared "one on one" assuming a clear board state and no other cards involved, although this is mostly academic since cards drawn and played tend to have a much larger effect on the game than any player's Power.
Trivia
[
]
Gallery
[
]