Shadowform
Regular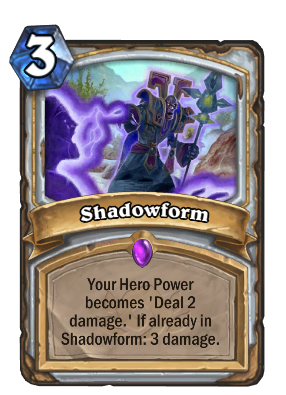 Gold
Your Hero Power becomes 'Deal 2 damage.' If already in Shadowform: 3 damage.
Flavor text
If a bright light shines on a priest in Shadowform… do they cast a shadow?
External links
This is the Classic format version of Shadowform, an epic priest spell card.
For more information, see the original version.
Other versions
[
]
How to get
[
]
Shadowform (Classic) is associated with its original version. If you own any copies of it, you can also use them in Classic format.
Generated Hero Powers
[
]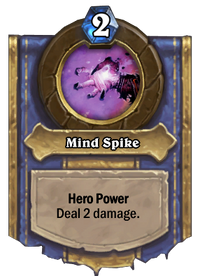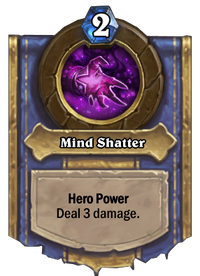 Notes
[
]
Example: You can use Lesser Heal, cast Shadowform and use Mind Spike on the same turn.
Strategy
[
]

This section concerns content exclusive to Classic format.
This is more powerful than it might appear at first glance. 2 "untauntable" damage that can be targeted at anything is better than any other offensive Hero Power. It is comparable to a twice as powerful Fireblast, or three times as powerful when changed to Mind Shatter. Just remember you are trading a reliable source of healing synergies.
Shadowform tends to be weaker in the early game, but more powerful as mana becomes more available later in the game. Shadowform costs 3 mana, and Mind Spike costs an additional 2 mana for a total of 5 mana for 2 damage. This can be a big hit to a deck's tempo. However, once mana is more free, the double Shadowform Mind Shatter is the most powerful Hero Power in the game (other than INFERNO! granted by the warlock's Lord Jaraxxus card).
Turn 7 and 10 are notable checkpoints for use of multiple hero powers in one turn. On turn 7, Lesser Heal, Shadowform and then Mind Spike can be played in a single turn (2 healing and 2 damage). On turn 10, Shadowform, Mind Spike, Shadowform then Mind Shatter can be played in a single turn (5 damage).
If you play Prophet Velen, your Shadowform ability will deal double damage. This means Mind Spike will deal 4 damage and Mind Shatter will deal 6 damage, the latter being arguably more powerful and useful than any other Hero Power (INFERNO! included). This is because unlike INFERNO!, you do not have to wait a turn to deal the 6 damage, and you can deal the damage behind enemy Taunt minions. Under these circumstances, however rare or difficult they may be to pull off, you essentially gain a Fireball which costs only 2 mana and can be played every turn. Just make sure to protect your Prophet Velen.
Patch changes
[
]
References
[
]