Shadow of Nothing
Mindgames whiffed! Your opponent had no minions!
External links
Shadow of Nothing is an uncollectible epic priest minion summoned by playing Mindgames when your opponent has no minions left in their deck.
Prior to Patch 2.7.0.9166 (Tavern Brawl patch), the Shadow of Nothing would destroy itself at the end of the turn on which it was summoned, unless Silenced or Transformed.[1][2] This is no longer the case.[3]
For more information, see Mindgames.
Other versions
[
]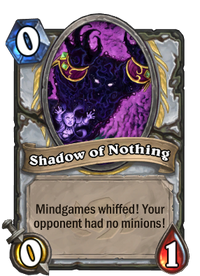 Summoned by
[
]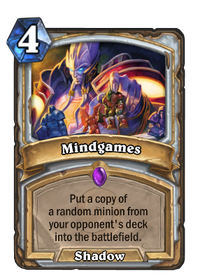 Lore
[
]
The Shadow of Nothing is a creature of the void, similar to a Voidwalker.[4] While not strictly demonic, such entities are usually placed within the broader spectrum of demons, similar to Infernals.
Trivia
[
]
Gallery
[
]
Patch changes
[
]
References
[
]