Setesh
Regular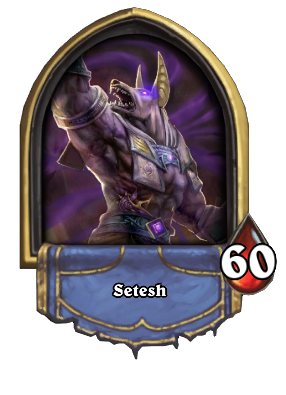 Flavor text
Setesh curses minions... Without even getting to know them first.
External links
Setesh is a boss that can be encountered initially in Chapter 4 of Tombs of Terror. After completing Chapter 4, this boss encounter will be available in any completed chapter.
Hero Powers
[
]
Normal
Heroic

Auto-cast
Decks
[
]
The below classes are listed purely for reference, and have no effect on the boss' use of the cards during the battle.
Strategy
[
]

Please add any available information to this section.
Dialogue
[
]
Introduction
Setesh

Behold the infinite darkness!

vs. Sir Finley

There is no chivalry in death, murloc.
Emote Response
Setesh

There is dark promise within you.
Hero Power
Setesh

All things end.
Did you expect to survive?
Do you understand now?
Meet your fate.
Wilt beneath my gaze.
Idle
Setesh

Chaos cannot be controlled.
To destroy is to protect. To protect is to destroy.
Boss cards
Setesh

Shadow Word: Death

You value strength too highly.

Plague of Death

I once controlled this plague… now it runs rampant.

Deathwing

Deathwing has brought destruction like no other!
Player's cards
Setesh

Murmy

Such rage in one so small!

Bone Wraith

An angry husk? How fitting.

Octosari

Ah, the power!

DOOM!

An admirable act of destruction.
Death
Setesh

Harness... your... hatred.
Defeat
Setesh

You fear that which you cannot control. But can you control your fear?
Lore
[
]
Setesh - a titanic watcher - is a boss of the Halls of Origination in World of Warcraft: Cataclysm.

This section uses content from Wowpedia.
Setesh is one of the guardians of the Halls of Origination. Like the other constructs within the halls, Setesh was created to protect the powerful device capable of resetting all life on Azeroth. Each of the keepers has a sphere of influence. Isiset presides over magic; Setesh, chaos; Ammunae, life; and Rajh, the sun.
Given the purpose of the Halls of Origination, the titans deemed it necessary to create Setesh, a construct who holds sway over the powers of destruction. Should Setesh ever fall to corruption, the results would be disastrous.
Trivia
[
]
Gallery
[
]
Patch changes
[
]
Tombs of Terror
Heroes
Chapter 1:
The Lost City

| | |
| --- | --- |
| Level 1 | |
| Level 2 | |
| Level 3 | |
| Level 4 | |
| Level 5 | |
| Level 6 | |
| Level 7 | |
| Level 8 | |

Chapter 2:
Scorching Dunes

| | |
| --- | --- |
| Level 1 | |
| Level 2 | |
| Level 3 | |
| Level 4 | |
| Level 5 | |
| Level 6 | |
| Level 7 | |
| Level 8 | |

Chapter 3:
Khartut's Tomb

| | |
| --- | --- |
| Level 1 | |
| Level 2 | |
| Level 3 | |
| Level 4 | |
| Level 5 | |
| Level 6 | |
| Level 7 | |
| Level 8 | |

Chapter 4:
Halls of Origination

| | |
| --- | --- |
| Level 1 | |
| Level 2 | |
| Level 3 | |
| Level 4 | |
| Level 5 | |
| Level 6 | |
| Level 7 | |
| Level 8 | |

Chapter 5:
The Inner Sanctum
Tavern