Security Rover
Security Rover
See other versions: BG Regular and BG Gold
Set:
The Boomsday Project
Type:
Minion
Minion type:
Mech
Class:
Warrior
Rarity:

Rare

Cost:
6
Attack:
2
Health:
6
Abilities:
Summon
Tags:
Damage-related, Mech-generating, Taunt-generating, Triggered effect
Artist:
Adam Byrne
Whenever this minion takes damage, summon a 2/3 Mech with Taunt.
Insecurity detected. Alerting hugbots.
See this card on PlayHearthstone
Security Rover is a rare warrior minion card, from The Boomsday Project set.
Security Rover can be obtained through The Boomsday Project card packs, or through crafting.
| Card | Crafting cost | Disenchanting |
| --- | --- | --- |
| Security Rover | 100 | 20 |
| Golden Security Rover | 800 | 100 |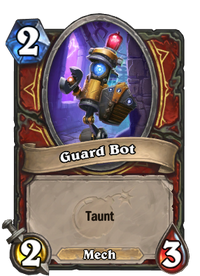 A solid mech that is a great target for Magnetic minions like Beryllium Nullifier and Bronze Gatekeeper. Security Rover can also be used to deter your opponent from playing a board clear, or can combo with small AoE damage like Whirlwind and Warpath.
Summon
Attack
Death